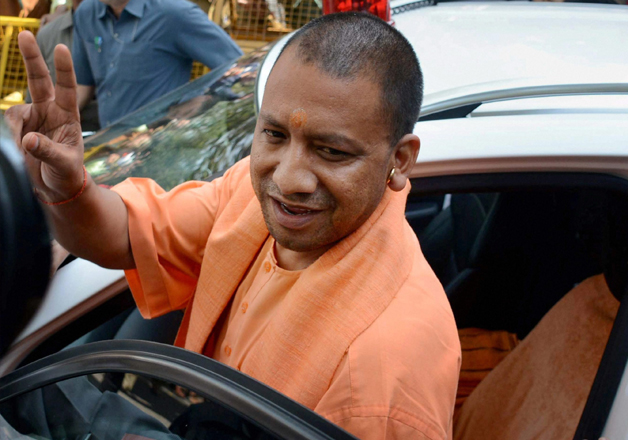 Newly elected Chief Minister of Uttar Pradesh Yogi Adityanath has pledged to work for all sections of society without discrimination.
On his first day in office after taking oath, the firebrand leader, who now heads a 47-member Cabinet in the country's most populous state, presided over a meeting of top bureaucrats in Lucknow and asked them to prepare a roadmap for good governance. Besides, he asked them to fulfil the promises made by the BJP in its election manifesto. 
On day 2, the Chief Minister was in Delhi where he met scores of central leaders including President Pranab Mukherjee, Prime Minister Narendra Modi and BJP president Amit Shah. 
He also attended the proceedings of the Lok Sabha and addressed the House, vowing to make Uttar Pradesh free of corruption and riots. He also promised to create a new model of development that will generate employment opportunities, thus stopping the youths from migrating to others states in search of livelihood.
On day 3, Adityanath arrived at the Lok Bhawan where CM's office is located. Here, he formally passed several orders including crackdown on cow smugglers.
Here is a list of some decisions taken by the 21st Chief Minister of UP so far: 
1. On the very first day, the CM implemented the BJP's promise of cracking down on illegal slaughterhouses. Two slaughterhouses -- Rambagh and Atala slaughterhouses (both in Allahabad) -- were sealed. 
Also in Dasna, which falls in Ghaziabad district, one slaughterhouse was reported locked. In Varanasi, one slaughterhouse, which was allegedly being run illegally, was sealed. In capital Lucknow, authorities yesterday sealed several meat shops that were functioning illegally.
2. At his maiden meeting with top bureaucrats, the new CM asked policemen to ensure that law and order situation in the state improved within a week. 
3. Cracking down on the VIP culture in the state, the CM ordered that no minister in the state will be allowed to use the red beacons atop vehicles. A similar move was approved by Punjab CM Amarinder Singh after he took oath as CM.
4. Yogi Adityanath handed officials attending the meeting with the BJP's vision document -- Sankalp Patra -- for the 2017 state assembly elections and asked them to study the document and ensure its speedy and complete implementation. Programmes rolled out by various departments of the state government must be in tune with the party's vision document, the new UP CM said.  
5. He also directed senior administrative and police officers to effectively monitor social media for timely police intervention in incidents that could disrupt communal harmony in the state. He also appealed to all officials to change their outlook towards treating women and sought zero tolerance in matters related to women's security. 
6. Yogi Adityanath also discontinued services of all advisers, vice-chairmen and chairmen appointed by the previous SP government in different departments and corporations. These advisers enjoyed unbridled powers, sometimes equivalent to that of a minister. 
7. Referring to the killing of a BSP leader in Allahabad, the CM asked directed DGP Javeed Ahmed to bring the culprits to book and also prepare a blueprint for restoring law and order control in the state within 15 days. He also called for an end to political intervention in matters related to the police and administration at any level.
8. The CM had also asked all ministers to disclose their incomes within the next 15 days and submit the details to the CM secretariat and the BJP office.
9. The CM also cautioned all the ministers against making any irresponsible statements that could lead to a controversy or hurt sentiments of anybody in the state.
10. On day 2 of his office, the Uttar Pradesh issued orders to constitute 'anti-Romeo squad' in 11 districts of the Lucknow zone to prevent eve-teasing, as BJP had promised during the Assembly polls in its manifesto.
11. On day 3 of his office, the CM formally directed the police officials to prepare an action plan for the closure of illegal slaughterhouses and meat shops operating in different parts of the state. 
12. Adityanath, a priest and devout gau-sevak, also ordered a blanket ban on smuggling of cows. He asked district police chiefs to adopt a 'zero tolerance' policy towards those involved in such illegal activities.
13. He asked the police to remain more vigilant to curb rising number of eve-teasing cases. 
14. CM Adityanath had on Tuesday met Union Tourism Minister Mahesh Sharma and discussed the construction of a huge Ramayana museum in Ayodhya. It is believed that the state government has cleared 25 acre land for the purpose. The Centre has already allocated a fund of Rs 154 crore for the ambitious project.
15. CM Adityanath issued strict instructions to senior officials to tackle cow vigilantes who are misusing the government's decision on banning slaughterhouses with an iron hand.