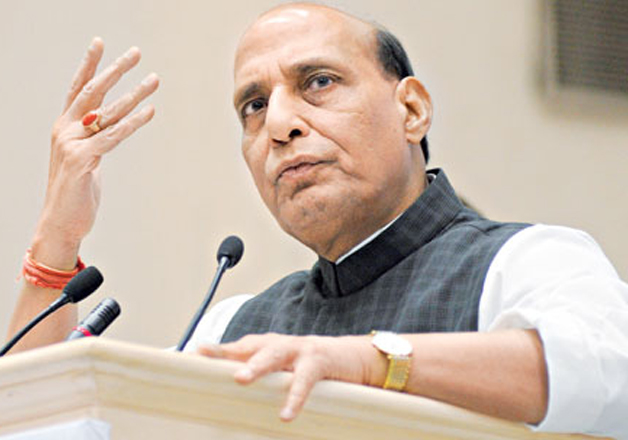 Union Home Minister Rajnath Singh today said that there has been a sharp drop in the activities of Naxals since the government's decision to scrap high-denomination currency notes of Rs 500 and Rs 1,000.
Speaking to reporters, Rajnath said that Naxal activities have seen a drop of 50 to 60 per cent post-demonetisation, adding that the note ban had weakened Naxals as their major economic system was destroyed.
According to PTI, Naxal and other extremist organisations had saved around Rs 100 crore for meeting expenditure for one year but the money had suddenly become defunct in the wake of government's November 8 decision.
The ultra groups including Maoists, however, were reported to have succeeded in exchanging old currency notes into new currencies worth Rs 20 crore with the help of their over-ground workers and sympathisers as well as by threatening poor villagers and farmers, he said.
Singh further informed that talks are on to bring China on board to designate Pakistan's Masood Azahar as an international terrorist.
"We are still hopeful of getting China's support on Masood Azahar issue," he said.
Last month, China once again blocked the proposal to get the JeM chief and Pathankot attack mastermind listed as a global terrorist at the United Nations.
On Supreme Court's order declaring political parties seeking votes in the name of religion during polls illegal, he said that the "BJP never did nor will do
politics of religious polarisation'.
He also stressed that the 'secular' parties need to be cautious in the wake of the Supreme Court order that candidates should not seek votes in the name of religion, caste or creed.
"After the Supreme Court order, the so-called secular parties should be cautious," he said, adding that the court was absolutely right and politics should not involve caste or religion.
"BJP neither did politics of polarisation nor will it do in future. I feel if it was doing politics of polarisation, it would not have got clear majority in Parliament. It is for the first time that a non-Congress party has got clear majority in Parliament. Now to accuse that political party and its workers and volunteers is not right," he added.
Asked if his party will raise the issue of Ram temple in the upcoming Uttar Pradesh Assembly polls, Singh said the matter is sub-judice.
On the Supreme Court order, he said, "Whatever Supreme Court has said is absolutely right. I fully agree with whatever the apex court has said. Politics should not be on the lines of caste, cult or religion. Politics should be only in the name of humanity and justice."
When asked about infighting within the Samajwadi Party, Singh said, "Dispute in any family is unfortunate. But people who are in the power, shouldn't make the state suffer. The next government will compensate it."
To a question on whether he would be chosen as the chief ministerial face of party in the upcoming UP polls, Rajnath chose to remain silent.