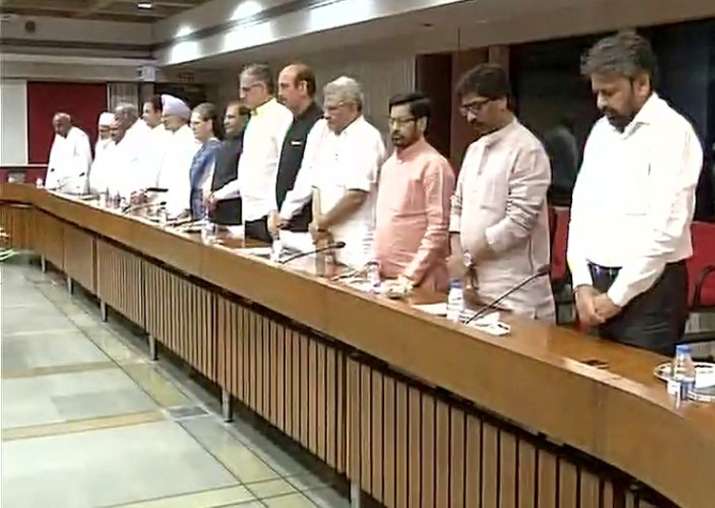 Eighteen opposition parties on Tuesday decided to meet once a month to discuss various crucial issues and maintain better coordination among themselves to unitedly take on the government. TMC leader Derek O'Brien announced this after a meeting of the opposition parties to decide on their vice presidential candidate today. 
"The Congress party and we have agreed that we will hold such meetings once every month," he said. 
The TMC leader said various key issues such as farmer suicides, the fallout of the Goods and Services Tax (GST) and demonetisation, and the role of some governors were discussed in the meeting. 
These issues are likely to be raised in the upcoming Parliament session. 
Some of the opposition parties have accused Puducherry Lieutenant Governor Kiran Bedi and West Bengal Governor Keshari Nath Tripathi of compromising on constitutional propriety. 
The Congress earlier alleged that the role of governors appointed by the NDA government had been questionable, be it in Arunachal Pradesh, Uttarakhand, West Bengal or Puducherry. In today's meeting, the opposition leaders were also unanimous in condemning the government for targeting all the opposition parties, be it Lalu Yadav's RJD in Bihar, the Congress or the Aam Aadmi Party.
O'Brien said this issue would also be raised in Parliament. 
The Trinamool Congress leader said there was "good opposition coordination" on the vice presidential election and that it was likely to continue. The opposition parties today fielded former West Bengal governor Gopalkrishna Gandhi as their candidate for the post of the vice president.
The meeting was attended by Sharad Yadav of the JD(U), Congress chief Sonia Gandhi, her deputy Rahul Gandhi, former prime minister Manmohan Singh, TMC's Derek O'Brien, CPI(M)'s Sitaram Yechury, SP's Naresh Agarwal, NC's Omar Abdullah, JD(S)' Deve Gowda, BSP's Satish Chandra Mishra and RLD's Ajit Singh among others. 
Those who attended the meeting included Jai Prakash Yadav of the RJD, Hemant Soren of the JMM, D Raja of the CPI and representatives of the CMK, the NCP, the Kerala Congress. 
The opposition floor management for the Monsoon Session of Parliament, which starts on July 17, was also on agenda. The session is likely to see opposition protests on the raids on RJD chief Lalu Prasad. 
The leaders also observed a two-minute silence at the start of the meeting to condole the deaths of seven Amarnath pilgrims in a terror attack in Kashmir yesterday.
(With PTI inputs)