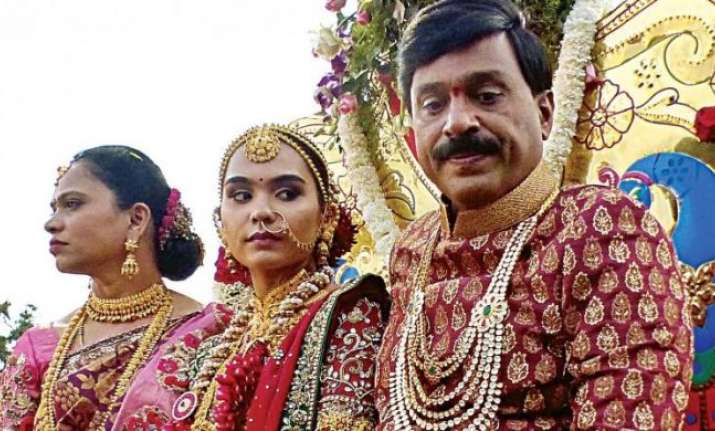 Days after former Karnataka minister and mining baron Janardhan Reddy spent a fortune on his daughter's wedding, estimated to have cost hundreds of crores, officials of the Income Tax department have now begun to scan his accounts for irregularities.
According to a Times of India report, Reddy's in-laws, event managers who provided various wedding-related services, priests, security guards and pandal suppliers are also under the I-T department's scanner.   
The I-T sleuths on Monday raided the office of Reddy's Obulapuram mining company in Karnataka's Bellary and also slapped a three-page notice on him seeking details of all the expenses, including the source of his income.
The department also conducted surveys in Bangalore and Hyderabad on service providers engaged for wedding of Reddy's daughter.
"We've been gathering information for the past two months. We waited for the wedding to get over and have now issued a notice to him under Section 135 A (5) of the Income Tax Act, 1961. He has been directed to reply before November 25," tax department sources were quoted as saying.
The I-T department served a 15-question notice on Reddy at his residences in Bellary and Bengaluru which contains a list of items against which Reddy has to enter the amount spent.
The report claimed that the expenditure breakup must include the money spent on flowers and vegetables too. Moreover, Reddy has also been asked to submit the bills and contact numbers of the vendors.
The I-T department has also sought details of pre- and post-marriage functions, the number of guests, details of credit and debit card transactions, and the money spent on return gifts.
The extravagant wedding of Reddy's daughter Brahmani gabbed the headlines for its ostentatious display of wealth, which included recreation of the Vijayanagara empire by erecting massive sets on the 35-acre wedding venue, list of 50,000 guests and LCD-screen invitation cards.