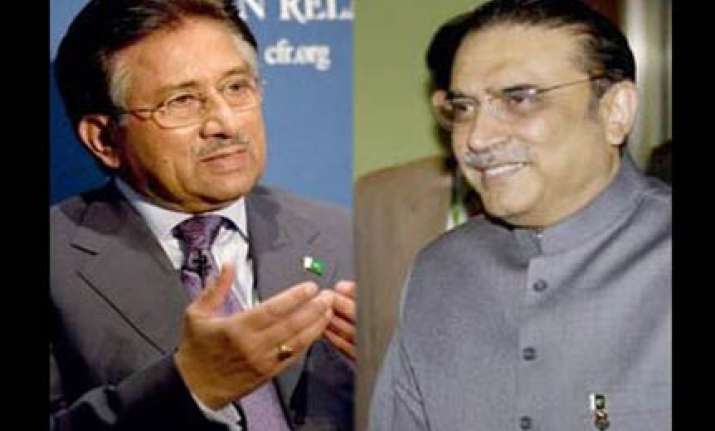 Islamabad, Nov 17: In an unprecedented step, President Asif Ali Zardari has deputed a serving Pakistani Army officer to provide security to his predecessor Pervez Musharraf outside the country.
Colonel Ilyas, an army officer on attachment to the presidency, said Zardari had ordered him to serve as Chief Security Officer to Musharraf, who has been living in self-exile in Britain since last year, as a "courtesy" to the former President.
Existing rules contain no provision for such a measure.
Zardari also appointed four to five other persons to serve Musharraf, who resigned in 2008, in London, Ilyas told 'The News' daily.
"This is besides the four people given by the army chief, Gen Ashfaq Parvez Kayani, who allowed this facility to Musharraf as ex-army chief," he said.
Four Special Service Group commandos, who already have taken retirement, serve as bodyguards for Musharraf, Ilyas said.
The appointment of a serving army officer and other government employees as staff for Musharraf is unprecedented, experts said.
Pakistan's only other living former President Rafiq Tarar said no army officer had been assigned to him.
According to existing rules, four persons are appointed to serve a President after he leaves office - a personal security officer, a police guard, a driver and a cook.
"No other official, besides these four, are allowed (for) an ex-President," Tarar said.
Ilyas said he was with Musharraf "not because of Pakistan Army but because of President Zardari."
He added: "No regular army official is allowed (to serve with a former President) and my duty with President Musharraf is simply a courtesy to the ex-President."
Experts also said that staff provided to a former President is meant to serve only within Pakistan and do not accompany him if he opts to live outside the country.
Former army chief Gen Mirza Aslam Beg said rules of the Pakistan Army earlier allowed ex-army chiefs to have a batman, a personal secretary, a driver and an official telephone.
However, slain former premier Benazir Bhutto ordered these facilities to be withdrawn and this order still stands, he said.
The Pakistan Army spokesman had clarified some time ago that Col Ilyas is on attachment with the Interior Ministry, which sent him to serve with Musharaf in London.
Ilyas, however, told The News that he was never attached with the Interior Ministry and had been serving the presidency for the past ten years. PTI