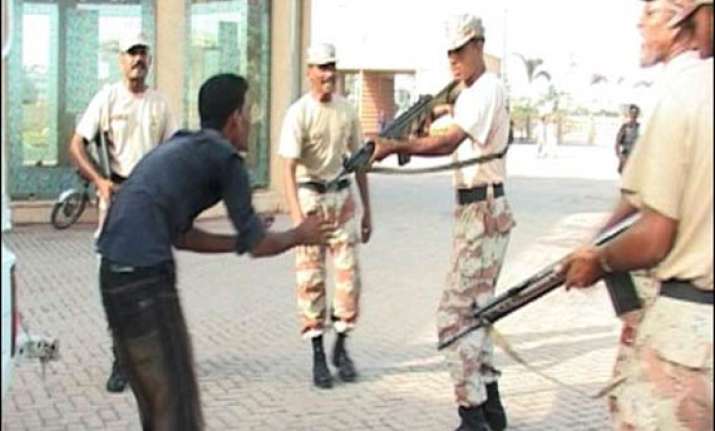 Islamabad, Jun 10: The Supreme Court of Pakistan  on Friday  ordered  removal of Director-General of Rangers Sindh and Inspector General of Police Sindh within three days, Geo News reported.

The apex court  took suo moto notice of  the cold blooded killing of a young man by Rangers personnel and summoned DG Rangers Sindh Maj. Gen. Chaudhry Ejaz, Sindh Chief Secretary Abdul Subhan Memon, IG Sindh Fayyaz Leghari and Provincial and Federal Home Secretaries for today's hearing.

A five-member larger bench of the SC headed by Chief Justice Iftikhar Muhammad Chaudhary heard the case.

While hearing the case, Chief Justice of Pakistan (CJP) Iftikhar Chaudhry said that Rangers are involved in target killing instead of stopping it. DG Rangers and IGP should have resigned after the incident, he remarked.

Chief Secretary Sindh accepted the failure of civil administration and surrendered before the court upon which the CJP asked him to find a way out of this mess.

Interior Secretary told the court that Rangers are under the admin control of Sindh government and the deployment notification is revised after every three months.

The CJP has asked to submit the Rangers deployment notification in the court.

During the break Attorney General and Federal Interior Secretary went to Prime Minister House to meet PM Gilani but later told the court that they could not meet the premier because he was busy in the National Assembly.

The bench then ordered to remove the IG Sindh and DG Rangers Sindh. It was also ordered that if they were not removed than their salaries are stopped.

The trial court was also instructed to hear the case on daily basis and complete it within 30 days. The apex court appointed DIG West Sultan Khuwaja investigation officer.
 
In Karachi, the Rangers personnel accused of killing  the young boy  are in police custody after being placed on a five day physical remand, Geo News reported.

They were produced before the court by the police on Friday.

The young boy was killed in broad daylight and the incident of his killing at the hands of the Rangers came into limelight when the video showing the incident was aired on news channels.

Six personnel of Sindh Rangers were in the Rangers mobile deputed outside the park where the killing took place and can be seen in the video, but only two of them were handed over to the police.

Advisor to the Prime Minister on Human Rights Mustafa Nawaz Khokar told Geo News that the family of the deceased named only two Rangers men.