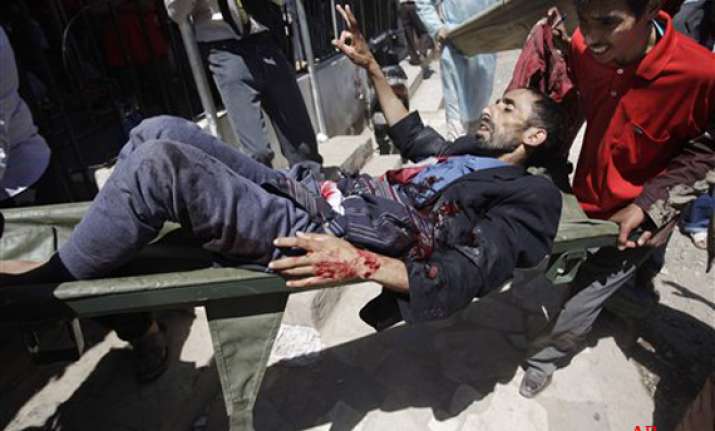 Sanaa, Oct 18 : Clashes between troops loyal to Yemen's embattled president and his rivals today left at least 18 people killed and 30 wounded in the capital Sanaa and the city of Taiz, according to medical, security and tribal officials.

They said eight followers of a powerful tribal leader who defected to the opposition in March were killed in pre-dawn clashes with forces loyal to President Ali Abdullah Saleh in the northern sector of the capital.

Four civilians caught in the crossfire and two pro-regime soldiers were also killed in the fighting, in which mortars, rockets and heavy machine-guns were used. The city was rocked by the sound of explosions for much of the night, until the fighting ceased at sunrise.

Three people were also killed when mortars hit a protest encampment in central Sanaa known as Change Square, the birthplace and epicentre of an eight-month-old popular campaign to topple Saleh, Yemen's leader for 33 years.  Also, a man was killed in the city of Taiz, when pro-government gunmen fired on protesters today. 
There were no firm information about how many were killed and wounded in the pre-dawn fighting from the renegade 1st Armoured Division led by Maj Gen Ali Mohsen al-Ahmar. 
The general, a one-time Saleh ally, said in a statement that 91 of his men have been killed and 2,300 wounded in fighting between his troops and pro-regime forces since Saleh returned home from Saudi Arabia September 23. Saleh was there for nearly four months to treat serious wounds and burns suffered in an attack on his Sanaa compound in early June.

At least 30 were wounded across Sanaa and in Taiz today,most of them in the capital.