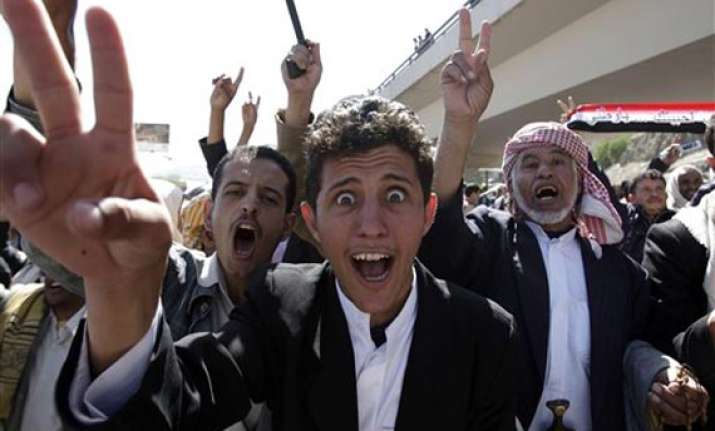 Sanaa, Oct 20 : Yemen's embattled President Ali Abdullah Saleh today said he was ready to sign a Gulf-brokered deal for him to quit office but demanded American and European guarantees on a timetable.

"I would sign. But provide guarantees to implement the Gulf initiative," Saleh, reiterating his claimed willingness to leave power after 33 years in office, told a party meeting, Saba state news agency reported.

"We want, first, Gulf guarantees, second, European, and third, American. These three guarantees should accompany the Gulf initiative," he added, standing defiant after nine months of deadly protests demanding his ouster.  "Part of the pressure being exerted now stems from demands that it (the deal) is signed without any conditions and that the time framework (for implementation) be discussed at a later stage," he complained.

Under the terms of the Gulf initiative tabled earlier this year, Saleh would hand power to the vice president 30 days after the signing, and he and his aides would be granted immunity from prosecution by parliament.  A national unity government led by a prime minister from the opposition would be formed, and a presidential election would follow 60 days after Saleh's departure.  "We have said that we are ready to endorse the (Gulf) initiative, but do you not want us to discuss the time framework for its mechanism," added the veteran leader whose presidential term ends in 2013.

He did not elaborate on the timetable he wants.Scores were killed over the weekend when his forces and loyalist gunmen fired at protesters in Sanaa, and in clashes between his loyalists on one side and dissident troops and tribesmen who sided with protesters on the other.