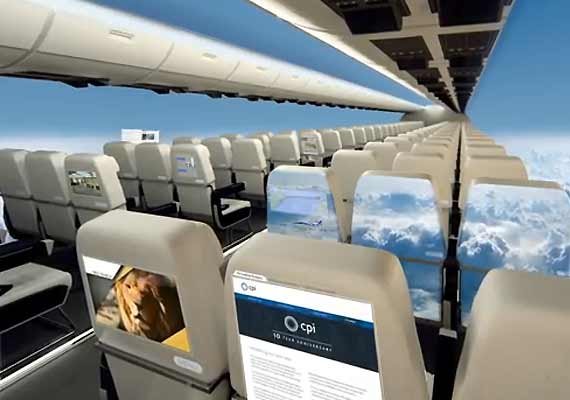 Ever wondered how it would feel to sit in a plane covered by a single pane with no windows, soaring through the sky.
Giving a push to the adrenaline rush, and a bit scary at the same time; welcome to the future of aviation!
The next decade will mark the arrival of the windowless plane with more space, comfort and the long pane embedded with LED technology.
Scientists at CPI (Centre for Process Innovation), call it a windowless cabin with a view. This technology will offer passengers a richer visual experience, and soon days of seeing the sky through the small fogged up plastic windows will be over.
According to CPI, windows in airplanes are tiny and hardly benefit anyone except for the people seated next to them. Through the new process, not only can windows be fully eliminated but everyone can get a clear view of the cloudy/clear outside.
Here, the thin window will be replaced by the ultra-flexible, high definition display technologies. The screen will replicate the outer view of the plane through the cameras mounted outside. The passengers will have a choice if they want to enjoy the panoramic view or simply switch to surf internet.
If you are not at the window seat you'll still be able to have a large seat back display at your disposal.
There are some obvious questions which pop out in mind like moving displays and screens may cause increased motion sickness and also there will be no natural light after all they are screens only.
This new state of art technology will lighten the overall weight of aircraft which will result in less fuel consumption and thus cheaper fares. It will help reduce carbon emissions and create more space and comfort for the passengers.
Watch video to get a glimpse of this heavenly experience...