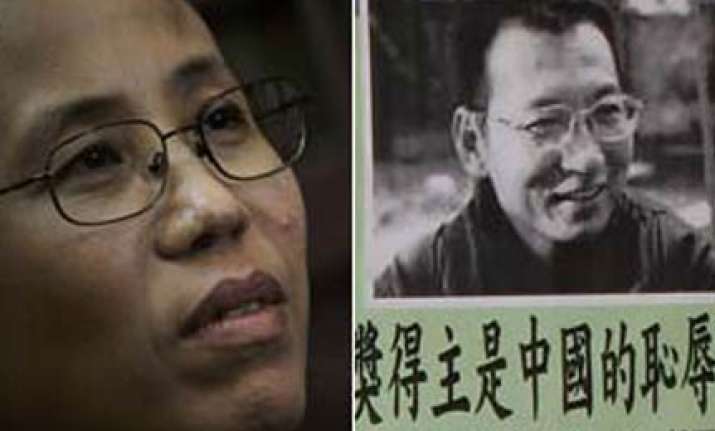 Jinzhou, China:  The wife of the world's newest Nobel Peace Prize winner is expected to visit him in prison on Sunday and finally give him the news of his award, a family member said Saturday night.
Police kept reporters away from the prison where democracy campaigner Liu Xiaobo is serving an 11-year sentence for subversion, and the mobile phone of his wife, Liu Xia, was cut off. The authoritarian government continued to censor reports about Liu's award.
But one of Liu Xiaobo's brothers, Liu Xiaoxuan, said the prison meeting would be Sunday, citing information from Liu Xia's mother. He did not say why the meeting apparently had been delayed.
Chinese authorities, who called Liu a criminal shortly after his award Friday and said his winning "desecrates the prize," sank Saturday into official silence. Chinese Premier Wen Jiabao didn't answer a question about the prize that was submitted Friday for a joint news conference in Turkey with that country's premier.
Only the state-run Global Times newspaper spoke out Saturday. An editorial in its Chinese-language edition called the award "an arrogant showcase of Western ideology" and said it disrespected the Chinese people.
But one Chinese newspaper cartoonist, Kuang Biao, posted an image on his blog Friday of a Nobel prize medal behind bars. Another well-known blogger, Ran Yunfei, wrote Saturday, "In an era in which the Internet is gradually making information available to everyone, trying to hide from any Chinese the news that Liu Xiaobo has won the Nobel Peace Prize is hopelessly stupid behavior -- the more one tries to hide it, the more obvious it becomes."
Some of China's most prominent activist lawyers said Saturday they were being harassed by police as they took advantage of the peace prize to try to reconcile differences among themselves. Lawyers Pu Zhiqiang, Jiang Tianyong and others said they were not allowed to leave their homes."The government doesn't know how to react to the news of Liu Xiaobo winning the Nobel prize," Pu said. "They are nervous, fearful and are acting chaotically."
Another group of Chinese wrote an open letter to police protesting the detention of other activists who tried to celebrate the peace prize Friday but said they were too scared to turn in the letter.
In naming Liu, the Norwegian-based Nobel committee honored his more than two decades of advocacy for human rights and peaceful democratic change -- from the Tiananmen Square demonstrations in 1989 to a manifesto for political reform that he co-authored in 2008 and which led to his latest jail term.President Barack Obama, last year's peace prize winner, has called for Liu's immediate release.
But there was still no word from the winner himself, or his wife, who had been in police custody."She's disappeared. We're all worried about them," Liu's lawyer, Shang Baojun, told The Associated Press on Saturday.
Liu's wife's freedom of movement had been shrinking since the eve of the Nobel announcement, when she said police tried to get her out of Beijing, offering her a prison visit with Liu. She instead planned to hold a news conference with reporters Friday night, but police would not let her leave her apartment. She was negotiating terms to visit Liu on Saturday and tell him the news.
Police often force political critics, religious dissenters and sometimes their family members to leave Beijing ahead of sensitive anniversaries, often putting them up in guesthouses and keeping them out of the way for days and weeks.
Beth Schwanke with the Washington-based Freedom Now, an organization that serves as Liu's international counsel, said, "We're very concerned that the government might use this as a pretext for detaining her."Liu's wife has said she hopes to go to Norway to collect the Nobel medal and its prize money of 10 million Swedish kronor (about $1.5 million), if he cannot.
Two years into an 11-year jail term at the prison 300 miles (500 kilometers) from Beijing, the slight, 54-year-old literary critic was not expected to find out about the award until the meeting with his wife.
Shang said it was not likely that winning the prize would have any big effect on Liu's prison sentence. "Unless (President) Hu Jintao signs some sort of special order ... but there's no precedent for that," the lawyer said. In past years, China would release certain dissidents after international pressure, but not because they won major awards.
Liu's wife was the lawyer's other concern. "I think by the end of today if she has not reappeared, there will be a big brouhaha," said Nicholas Bequelin, Asia researcher for Human Rights Watch.AP