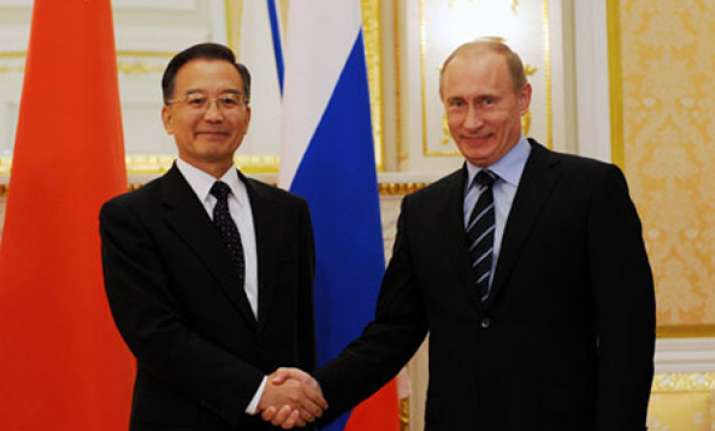 Beijing, Jun 5: As US Defence Secretary Leon Panetta arrived in New Delhi to firm up military ties, a wary China today rolled out red-carpet for Russian President Vladimir Putin in a bid to court Moscow to counter the big US naval push into Asia Pacific to checkmate Beijing.  |
Not since the 1961 Sino-Soviet spat which vertically split the Communist movements all around the world, the visit of a Russian leader made such a buzz in China as that Putin's even though this is his eighth tour to Beijing ever since he first came to power in 2000.
As Putin arrived this morning on a state visit to hold talks with Chinese leaders and to participate the 12 th Shanghai Cooperation Summit, (SCO) the state-run CCTV virtually covered the event live.
The two countries pledge to prioritise their relations, state-run Xinhua news agency reported after the meeting between Putin and President Hu Jintao.  The discussions reportedly focussed on the two countries to strengthen their, political, economic and military ties besides coordinating their stand on international issues like Syria and Iran.
"President (Putin) and I have agreed to continue treating the development of bilateral relations as a diplomatic priority," Hu said after a closed-door meeting with the Russian leader.
"China-Russia relations have maintained positive, healthy and stable development in recent years through the joint efforts of both sides," Hu said.
Hu said he is sure that Putin's visit will further promote the two countries'
comprehensive strategic partnership of coordination. Russia and China share extensive common interests, Putin said, highlighting bilateral cooperation in addressing international affairs.
Putin said the two countries' comprehensive strategic partnership of coordination has reached an unprecedented level through the efforts of both sides.
The two countries are expected to sign a host of agreement and look to firm up their energy cooperation.  Last year Russia supplied 15 million metric tonnes of crude oil through exclusive pipelines and the two countries are in talks to reach a similar agreement to supply Russian natural gas to energy hungry China.
Beijing also looks to clinch agreements on high end military technology which Moscow withheld so far, according analysts.
Chinese analysts appearing on the state television said the two countries looked forge a more dynamic and strategic relations in view of their reservations over US domination.  While Russia has concerns over the US missiles defence shield, China is wary about US forays into South China Sea as well its efforts to forge close alliance with India and Japan.  Chinese analysts are also arguing that China should make serious efforts to deepen ties with India too as New Delhi shares a close relationship with Moscow.  
"India and Russia have a history of close relations and Russia and China are also becoming very close. In geo-political interactions, both sides should work hard to increase mutual trust and also take care of each other's misgivings", a write up in the state-run Chinese edition of the Global Times said yesterday.