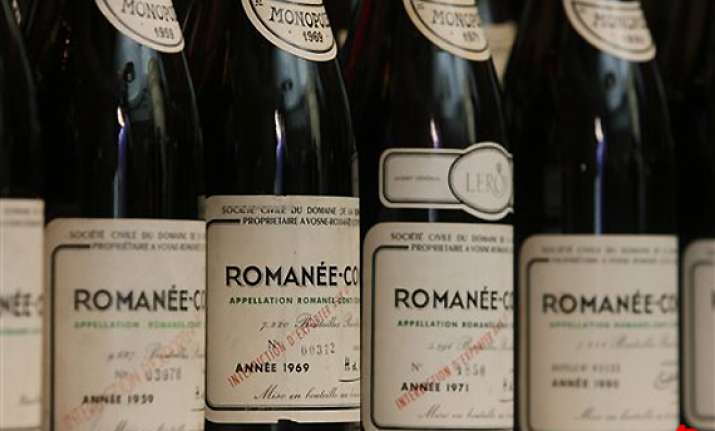 Hong Kong, Dec 7: A continuous - and consequently rare - collection of Burgundy vintage from 1952 to 2007 from the famous French estate Domaine de la Romanee Conti was put on display on Wednesday in Hong Kong before auction.

The 55 bottle display was a preview of the collection which will go under the hammer later this week.

Auction house Acker Merrall & Condit estimated the collection will fetch between 600-thousand and 800-thousand US dollars.

This complete collection of Romanee Conti starts with 1952, the first post-World War II vintage, as the vineyard was replanted after the end of the war in 1945 and did not produce any wines between 1946 and 1951.

The auction house said among these 55 bottles, the bottle of 1959 could be considered as one of the most valuable one because of its small amount.

John Kapon, CEO of Acker Merrall & Condit, described the "vertical" or continuous collection as a once in a life time opportunity.

"Every vintage from 1952 until 2007 make it in a complete vertical which I have never seen in my entire life in the wine business and we may never see one again, practically impossible to recreate," said Kapon.

Kapon also said in the preview that the balance of power in the wine market has shifted from traditional markets like America or Europe to Asia, especially to China in recent years.

"You look at 1982 through to 2005 or 2006, those are really the age in America where a lot of the world great wines and great collections were being built in America. Now, a majority of the world's greatest wines are coming here to Hong Kong, and the rest of, you know, China as well," he said.

Wine auctioneer Acker Merrall & Condit will offer 825 lots of rare Burgundy and Bordeaux wines, which are expected to fetch over 9 (m) million US dollars, on 8th and 10th of December.