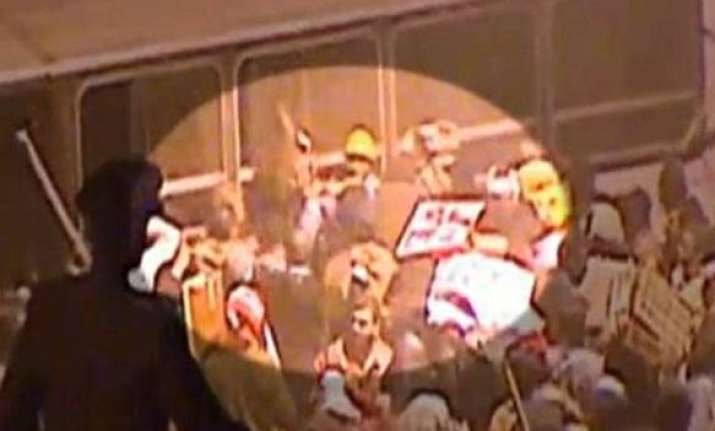 Fresh footage of the full brutality of violence on the streets of Egypt has emerged, showing vicious clashes between protesters and supporters of President Hosni Mubarak.
Posted on YouTube, the videos feature a pro-Mubarak van driver being surrounded and dragged from his vehicle by a mob of anti-government demonstrators.
Another scene sees supporters of the Mubarak regime driving a jeep towards protesters.
The violence that has blighted Cairo for almost a fortnight is evident in graphic detail as the Mubarak loyalists are shown losing control of their vehicle and being set upon by protesters.
While some of the president's supporters are led away to be detained, being beaten as they go, another man receives seemingly selective punishment, with protesters beating him as he lies apparently unconscious on the Cairo road.
Another scene from the video features laser-guided shots being fired at protesters on a bridge as they hide behind a car.
The video, which shows clashes from last Wednesday and Thursday, emerges as protesters called for further demonstrations.
Vice President Omar Suleiman has promised there will be no reprisals against the protesters for their two-week campaign to eject Mubarak after 30 years in office.
'A clear road map has been put in place with a set timetable to realise the peaceful and organised transfer of power,' he added, as he led talks with opposition groups including the Muslim Brotherhood.
Though some normality is returning to Cairo, with lengthy queues forming at banks with severely restricted opening hours, mainly younger protesters have called for a push to remove Mubarak as the authorities tried to squeeze them out of central Cairo.
Meanwhile the Egyptian pound has fallen to a six-year low.