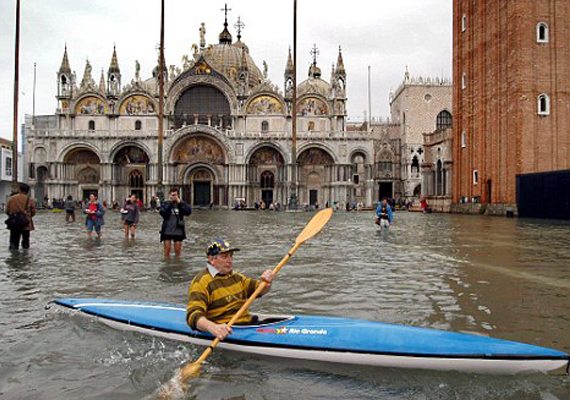 Venice, March 27:
The Italian city of Venice  is sinking more than five times faster than  was previously thought.
Scientists say the city is also tilting to the east and heading out to the Adriatic Sea, as it is hit by more floods than ever before, Mail Today reported.
Previous studies had shown water-levels in the former capital of the Maritime Venetian Republic had stabilised.
But the new research claims it has actually submerged, and tilted to the east, by an unprecedented 2mm per year over the last decade.                       
Earlier studies suggest it was submerging at just 0.04mm per year. The patches of land in Venice's 117 island lagoon are also sinking.
Northern sections are dropping between 2 to 3mm per year, while the southern lagoon is subsiding by 3 to 4mm over the same period.
Yehuda Bock, research geodesist with Scripps Institution of Oceanography at UC San Diego, said: 'Venice appears to be continuing to subside. It's a small effect, but it's important.'
Bock, who is publishing a study in American Geophysical Union's journal Geochemistry, Geophysics, Geosystems on Wednesday, said the current subsidence was due to natural causes, such as plate tectonics.                      
'The Adriatic plate, which includes Venice, subducts beneath the Apennines Mountains and causes the city and its environs to drop slightly in elevation,' he said.
And he added that the frequency of floods in Venice is increasing.
Residents now have to, about four or five times each year, walk on wooden planks to stay above the floodwaters in large parts of the city.
The study may spark fears not enough is being done to save the city's Gothic and Byzantine palazzos from plunging into the water.
But experts at Consorzio Venezia Nuova, a group in charge of safeguarding Venice and the lagoon, highlighted concerns about the report.
A source told NBC News: 'I learned about the new research from journalists like yourself.
'We have records of the subsiding of Venice for hundreds of years, and yet they haven't called us.
'We have calculated the city has been sinking 3 to 4cms per century.
'Now they say 2mm per year… that means Venice would sink 20cm every 100 years. That's more than five times more than we calculated. So I'll believe it when I see it.'
And Bock himself admitted a multi-billion dollar investment in the city's flood defence system would hopefully prevent the tourist destination from sinking into the abyss.
He said: 'A multi-billion-dollar effort to install flood-protection walls that can be raised to block incoming tides is nearing completion.
'The adjustable barriers were designed to protect the city from tides that are coming in higher as overall sea levels are rising in response to climate change.'