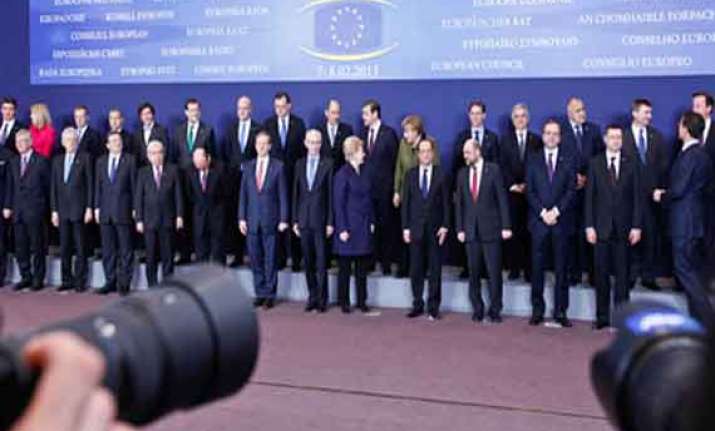 Brussels : Top leaders of the European Union (EU) mainly focused on the US spying scandal and growing immigration concerns in the Mediterranean during a two-day summit that ended here Friday.
The digital market as well as jobs and growth had been scheduled as the main topics for the summit. Instead, EU leaders spent rather limited time on those issues and only reached broad consensus on next steps for the digital economy among others, Xinhua reported.
In addition, EU leaders called for maximum simplicity and minimum hassle for business, while European Commission President Jose Manuel Barroso promised to cut red tape and make regulations fit for purpose. The calls to cut red tape had been brought up by British Prime Minister David Cameron prior to the summit.
France and Germany launched an initiative of seeking talks with the US over the alleged spying on its European allies, and all 28 EU member states agreed on the nature of the initiative, according to European Council President Herman Van Rompuy.
"The UK has a special relationship (with the US), but they are completely on board," Van Rompuy told reporters.
Both Berlin and Paris wanted to seek an agreement or an understanding with the US in the field of secret service by the end of the year, while inviting all the other member states to join their initiative, Van Rompuy said.
EU leaders expressed their conviction that the partnership must be based on respect and trust, including with respect to the work and cooperation of secret services, according to a statement adopted during the summit.
"A lack of trust could prejudice the necessary cooperation in the field of intelligence gathering," said the statement.
Earlier Thursday, Berlin summoned the US ambassador over allegations of spying on the mobile phone of German Chancellor Angela Merkel, which was denied by the White House.
Earlier this week, French President Francois Hollande had also asked for an explanation from Obama over the phone, following allegations of the US spying on millions of French phone calls.
The fresh round of spying scandals came only months after European media reported about the US national security agency' s bugging EU offices, based on the information leaked by Edward Snowden.
On the second day of the summit, EU leaders vowed to tackle immigration issues in the Mediterranean with a task force, in response to a shipwreck off an Italian island that had killed hundreds in early October.
"Leaders all agree determined actions should be taken in order to prevent the loss of lives at sea and to avoid that such tragedies happen again," Van Rompuy told a press conference on Friday.
"We will return to asylum and migration in December precisely with operational conclusions," Van Rompuy added, referring to the next summit in two months.
The task force would address the root causes of illegal migration flows and work with countries of origin and transit.