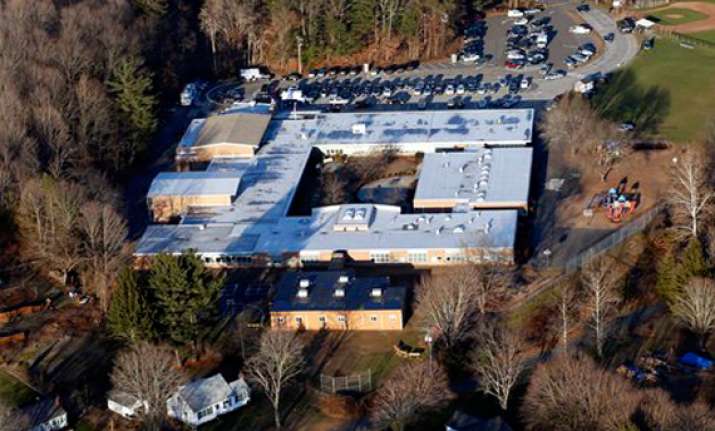 Newtown, Connecticut, Dec 15: The man, suspected of killing 25 people, including 20 kids,  at a school in the U.S. state of Connecticut was an honors student who lived in a prosperous neighborhood with his mother, a grade-school teacher who liked to host dice games and decorate the house for the holidays.
Adam Lanza killed his mother at their home before driving her car to Sandy Hook Elementary School and -- armed with at least two handguns -- carried out the massacre before taking his own life, officials said.  
A third weapon, a .223-caliber rifle, was found in the car, and more guns were found inside the school.  
The 20-year-old may have suffered from a personality disorder, law enforcement officials said.  
Investigators were trying to learn as much as possible about Lanza but so far, authorities have not spoken publicly of any possible motive. Witnesses said the shooter didn't utter a word.  
Catherine Urso, who was attending a vigil Friday evening in Newtown, Connecticut, said her college-age son knew the killer and remembered him for his alternative style.  
Lanza and his mother, Nancy, lived in a well-to-do part of Newtown, a prosperous community of 27,000 people about 60 miles (100 kilometers) northeast of New York City.  
A grandmother of the suspect -- who is also the mother of the slain teacher -- was too distraught to speak when reached by phone at her home in Florida.  
Adam Lanza's older brother, 24-year-old Ryan Lanza of Hoboken, New Jersey, was being questioned, a law enforcement official said.  
He told authorities that his brother was believed to suffer from a personality disorder, the official said.  
It was unclear exactly what type of disorder he might have had.  
Ryan Lanza had been extremely cooperative and was not under arrest or in custody, but investigators were still searching his computers and phone records. Ryan Lanza told law enforcement he had not been in touch with his brother since about 2010.  
Brett Wilshe, a friend of Ryan Lanza's, said he sent him a Facebook message Friday asking what was going on and if he was OK.   
Adam Lanza attended Newtown High School, and several local news clippings from recent years mention his name among the school's honor roll students.  
He described the area as a subdivision of well-tended, 15-year-old homes on lots of an acre or more, where many people work at companies like General Electric, Pepsi and IBM. Some are doctors, and his next-door neighbor is a bank CEO, said Kapur, a project manager at an information technology firm.