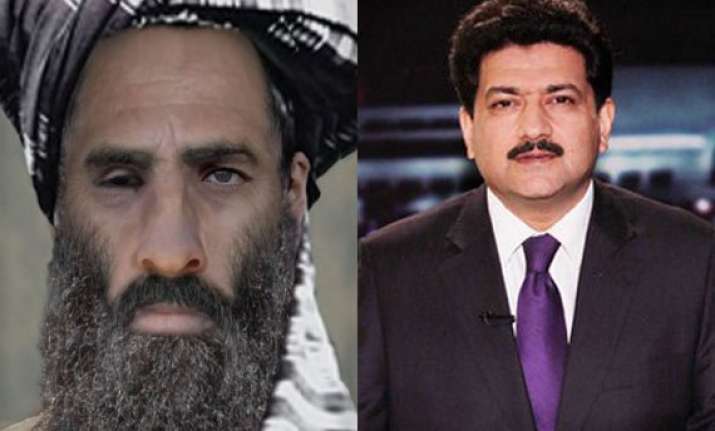 New Delhi: Noted Pakistani TV journalist Hamid Mir has revealed that it was senior US official Robin Raphel, who, in 1995, persuaded the then Pakistan Prime Minister Benazir Bhutto to support Taliban chief Mullah Omar in Afghanistan.
Hamid Mir was speaking at Idea Exchange with Indian Express in News Delhi.
The Pakistani journalist, who has interviewed Mullah Omar once and Al Qaeda chief Osama bin Laden thrice in the past described how US persuaded Benazir Bhutto.
"The Taliban movement emerged in Afghanistan in 1994. In 1995, I was travelling with the then PM Benazir Bhutto to the US. Bhutto met ambassador Robin Raphel in New York. We came to know that Raphel asked Bhutto to announce her support to the Afghan Taliban.
"It was very disturbing. I wrote a column from New York that here is the first elected woman PM in the whole Muslim world, the Afghan Taliban are imposing a ban on girls' education, and she had been sked by Robin Raphel, another woman, to announce her support for the Afghan Taliban.
"When we were coming from New York, the PM called me on the plane and said, 'You are criticising me'. I said, 'Yes, this is democracy. I don't like Taliban and you are supporting Taliban at the behest of raphel'. So she asked her Interior Minister to brief me why the taliban are good for Pakistan.
"After a few days, the Interior Minister organised a briefing for me and Nursat Javed, a colleague, and explained that we were using the taliban as the "pipeline police".
"We wanted a gas pipeline from Uzbekistan to Pakistan and there was nobody who could protect it because the government in Kabul, the North Alliance, was supported by the Indians and the Iranians and they might destroy the gas pipeline..I said okay, I would like to meet Mullah Omar. The Interior Minister said okay.
"I met Mullah Omar in Kandahar. When Mullah Omar asked me why I wrote against him, I said because he was supporting the Americans. I said Raphel was supporting him. He asked who is Raphel. I said she is a lady. He said, 'There is no power and no strength save in Allah!. A lady is supporting me!". I was astonished he was not aware Raphel was American.
"Mullah Omar said, 'If I fix your meeting with a big enemy of America, then will you write that I am not an American agent? I asked who is that enemy. He said Osama bin Laden. That was the end of 1995 and Osama bin Laden was not in Afghanistan at that time. He came to Afghanistan in May 1996, then the government of Benazir Bhutto was toppled in November 1996."