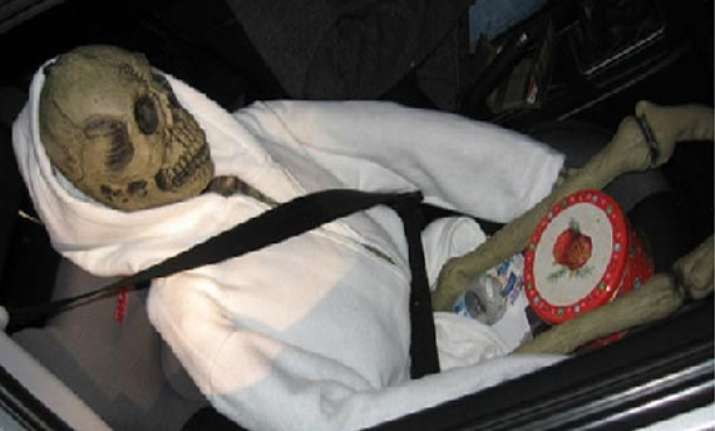 Washington, Jan 7:  Bryan Stime tied a plastic skeleton clad in a white hoodie  to the seat belt  with a cookie tin stuck between its legs to beat traffic violations in Washington state, and was caught.

When he was stopped for aggressive driving in a car pool lane, also called HOV (High Occupancy Vehicle) lane, Bryan Stime made no bones about who his passenger was.

The Washington State Patrol trooper clocked him going 82 miles per hour and making some dangerous lane changes last month,  and he immediately pulled him over.

When he did, he discovered Stime had a very strange passenger - a seat-belted, plastic skeleton clad in a white hoodie.

State Patrol spokeswoman Julie Startup said: 'The driver did not have any comment for the trooper concerning his "passenger" and received a ticket for speed, unsafe lane change and the HOV violation.'


Bryan Stime admitted to King5.com he was frustrated by his daily commute and said he would grow frustrated at watching people in the HOV lane pass him over and over.

He said: 'It's a heck of a commute, and since it was so bad, I started thinking, "Blow up doll? Mannequin?"'

He then remembered about a plastic skeleton he had at home. He put a sweatshirt on it and used it as a carpool buddy.

He said he had been using it for some time before he was pulled over.


According to Stime, the trooper asked him if he was kidding and then said: 'Congratulations, you're gonna get your picture taken.'

He snapped the photo of the unusual passenger and handed him a $454 ticket for speeding, unsafe lane change and driving solo in the HOV lane.