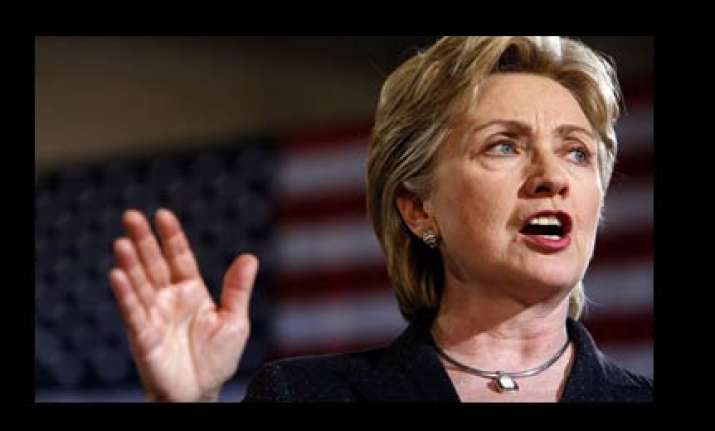 Washington, Oct 22 (PTI) The United States today announced it will provide a whopping USD 2.29 billion in fresh military aid to Pakistan to bolster its army's anti-terror capabilities, notwithstanding India's concerns that Islamabad has been diverting a portion of such assistance against it.
In her opening remarks to the plenary session of the third US-Pak Strategic Dialogue, Secretary of State Hillary Clinton announced another 29 million aid to Pakistan in International Military Education and Training (IMET), thus increasing the total aid package to USD 2.29 billion.
"The commitment underscores the importance the US places on its long-term relationship with Pakistan. Providing this assistance helps Pakistan address our mutual security challenges," an official statement said.
Clinton said a request will be made to Congress for the aid to be made available for the period from 2012 to 2016. This would complement the five-year USD 7.5 billion in civilian aid to Pakistan under the Kerry-Lugar bill, she said.
"United States has no stronger partner than Pakistan when it comes to counter-terrorism efforts against the extremists, who threaten us both, in Pakistan. We recognize and appreciate the sacrifice and service that the men and women particularly the soldiers of the military in Pakistan have made in order to restore order and go after who threaten the institutions of the State of Pakistan," she said.
"We will continue to support you as you take the tough decision necessary to create progress and prosperity for the people of Pakistan," Clinton said at the session which she co- chaired with her Pakistani counterpart Shah Mehmood Qureshi.
Clinton said the military working group had productive discussion on counter-terrorism measures and eliminate violent extremism and the organizations that are promoted, that are operating in Pakistan.
"These groups threaten the security, first and foremost of the people of Pakistan, of neighbors, of the United States and indeed of the world," she said, referring to al-Qaeda, Taliban and other terror groups based in Pakistan.
The USD 2 billion assistance would be used to procure US military equipment, services and training. This funding is aimed to enhance Pakistan's military modernization efforts, improve interoperability with US forces, and support Pakistan's legitimate defence needs, a US statement said.
In addition to increased funding for FMF, this is the fist time the US has made a multi-year commitment of IMET funding.
The fresh military aid to Pakistan is expected to cause unease in India, where President Barack Obama is set to visit next month.
"We feel that even though the US is giving arms to Pakistan to fight terrorism, our practical experience is (that) it is always being misused. They are diverting a portion against India," Antony had said during his visit here.
Meanwhile, the US statement also said, "We believe IMET is critical to furthering our strategic partnership. It offers the US and Pakistan military personnel the opportunity to build relationships while honing professional skills through a variety of military education courses."
On his part, Qureshi said Pakistan will not allow any space to terrorists within its territory.