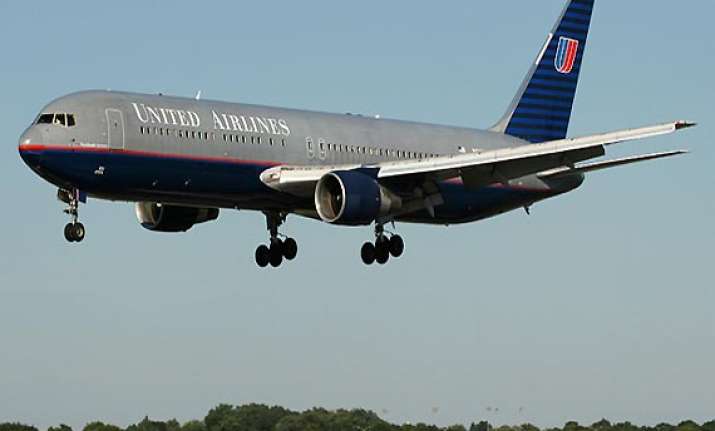 Moscow: Hundreds of passengers, many of them Indians, were stranded in an airport in the Russian capital after an United Airlines flight made an emergency landing today.
The Boeing 777-200 with 267 passengers and 16 crew was flying from New Delhi to Newark when it landed at 3.50 am Moscow time.
The malfunction of a central accumulator unit caused the emergency landing, Itar-Tass news agency reported.The passengers were "fuming" at Domodedovo Airport after being stranded for hours without food or a place to sleep, said a report in The Moscow Times.
No one was injured in the landing and no visible damage was found to the aircraft, reports said.  After disembarking at Domodedovo's international terminal, the passengers were told they would have to wait until 11 pm for the plane to continue its flight to Newark in New Jersey.  
The passengers became "frustrated" when the flight crew disappeared and United Airlines did not provide representatives to offer assistance, reports said.  
"This is terrible and needs to be fixed now. It is like being in a prison," Harry Ghuman, a Nevada-based Indian national with family on the flight, said in a plea for help on United Airlines' Facebook page.
Passengers and their relatives also appealed to India's envoy to Russia for help.
"There has been no provision for snacks (many Indians may need veggie snacks) nor a place to rest (airline should allow for hotel)," Namrita Khandelwal, whose sister was among the passengers, said in an e-mail to Ambassador Ajay Malhotra.  
"Passengers may not be equipped to handle Moscow's cold weather either," she said in the e-mail, which she also sent to The Moscow Times.
After a couple of hours, the Ambassador intervened and contacted the US airline, which promised to provide assistance through airport authorities.
"On checking with the Domodedovo Airport authorities, we are informed that they have the information about the landing of your United Airlines flight and are finding ways to help the stranded," Malhotra said in an e-mail to passengers.  
United Airlines only has a ticketing office in Moscow and no representative office, and was thus not in a position to help directly, Malhotra said. First Secretary K V Sreejesh was also asked to help the passengers.