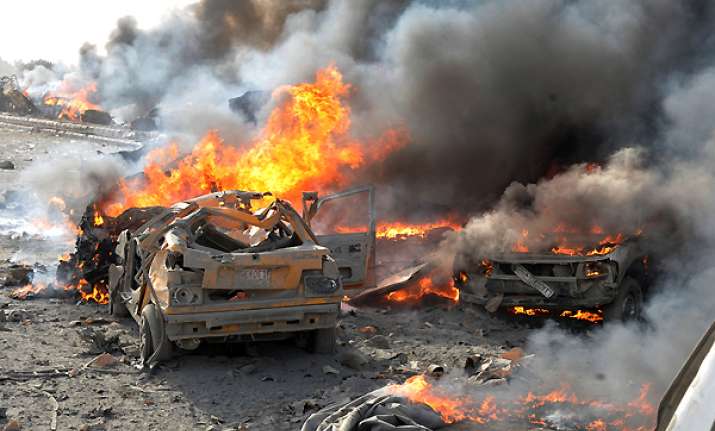 Beirut, May 16: A roadside bomb yesterday struck a car belonging to the UN observer mission in Syria, just minutes after regime forces opened fired on a funeral procession nearby and caused multiple casualties, witnesses and the mission said.
The observers were not among the dead or wounded, activists said.
"The front of a UN car took a direct hit," Idlib-based activist Fadi al-Yassin, who witnessed the attack, told The Associated Press.
"Everyone ran in panic but the observers stayed in the car. People tried to talk to them but they wouldn't even open their windows."
Just minutes earlier, Syrian forces fired on a funeral procession, activists said.
Al-Yassin and the Britain-based Syrian Observatory for Human Rights estimated the death toll could be as high as 20 people. It was impossible to independently confirm the toll.
"This is a real massacre and it took place in the presence of UN observers," Rami Abdul-Rahman, head of the Observatory, said of the attack on the funeral.
He called for an international investigation and for the monitors to state publicly what they saw.
A video posted by activists online appeared to show the exact moment the UN vehicle was struck.
The video shows two white vehicles clearly marked "UN" with people milling around it, and two others parked a few meters behind.
The blast blew off the front of the first vehicle and sent up a plume of smoke as people frantically ran for cover.
The four cars are then seen slowly driving away.
Ahmad Fawzi, a spokesman for Syria's special envoy Kofi Annan, confirmed the observers were caught up in the country's violence.
"A (UN) convoy of four vehicles was struck by an explosion from an improvised explosive device," Fawzi said in a statement.
"Three UN vehicles were damaged. No UN personnel were injured."