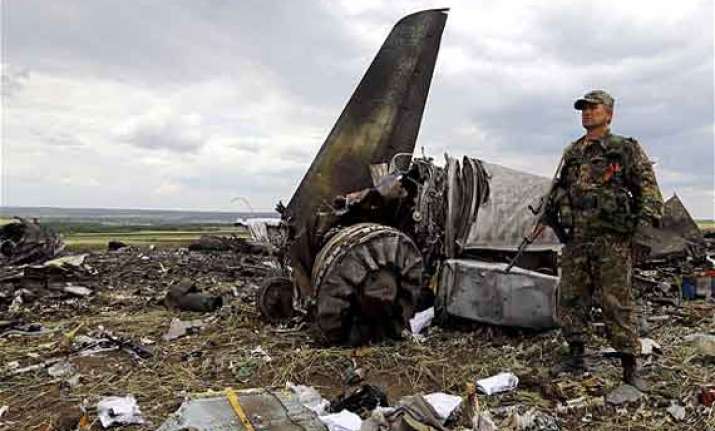 Kiev/Kuala Lumpur: Ukraine today claimed it has "compelling evidence" that Russian crew operated the missile system that downed a Malaysian jet with 298 people on board and accused Moscow of helping rebels in trying to destroy evidence.
As the blame game continued with Russia accusing the US and the West of pointing fingers at it to push their Ukraine agenda, a team of Malaysian investigators touched down in Kiev to try and get to the bottom of what happened to the Malaysia Airlines aircraft that was shot down Thursday, killing all those on board.
Russian Deputy Foreign Minister Sergei Ryabkov said the US administration sought to pin the blame on separatists and Russia without waiting for the results of an investigation.
The Boeing 777 was flying from Amsterdam to Kuala Lumpur as it was downed between Krasni Luch in Luhansk region and Shakhtarsk in the neighbouring region of Donetsk.  It is believed that flight MH17 crashed after being hit by a surface-to-air missile fired from the rebel-held area.
Ukraine's counter intelligence chief Vitaly Nada told a news conference: "We have compelling evidence that this terrorist act was committed with the help of the Russian Federation. We know clearly that the crew of this system were Russian citizens."
He also asked Russia to give Ukraine the names and surnames of the crew so that Kiev could question them.
As calls for an independent investigation into the downing of the jet grew louder, German Chancellor Angela Merkel and Russian President Vladimir Putin agreed for an international probe.
The two leaders, who spoke on the telephone, "agreed that an international, independent commission under the direction of ICAO (UN's International Civil Aviation Organization) should quickly have access to the site of the accident... to shed light on the circumstances of the crash and move the victims," a German government statement said.
Kiev also accused Russia of helping pro-Moscow rebels of trying to destroy evidence in the downing of the aircraft.
"The Ukrainian government officially announces: terrorists with the support of Russia are trying to destroy proof of this international crime," Ukraine's government said in a statement.
It complained that "the terrorists" had taken 38 bodies to a morgue in the rebel-held city of Donetsk. It said the rebels were also trying to transport the plane's wreckage to Russia.
Latest figures released by Malaysia Airlines show the plane was carrying 192 Dutch nationals (including one with dual US citizenship), 44 Malaysians (including 15 crew), 27 Australians, 12 Indonesians and 10 Britons (including one with dual South African citizenship, four Germans, four Belgians, three from the Philippines, and one each from Canada and New Zealand.
Meanwhile, Malaysia said its jet never strayed into restricted airspace and its flight path was considered a safe route.
"MH17's flight path was a busy major airway, like a highway in the sky. It followed a route which was set out by the international aviation authorities, approved by Eurocontrol, and used by hundreds of other aircraft," Transport Minister Liow Tiong Lai said today.
Liow said officials from Eurocontrol stated that two days before the incident, 75 different airlines had flown the same route.
"MH17 flew at an altitude that was set and deemed safe by local air traffic control, and it never strayed into restricted airspace," the minister said, adding that "the flight and its operators followed the rules." But on the ground, the rules of war were broken, he asserted.
"In an unacceptable act of aggression, it appears that MH17 was shot down; its passengers and crew killed by a missile," he said.
The Transport Minister also confirmed reports that MH17 initially requested to fly at 35,000 feet but was ordered to fly at 33,000 feet by air traffic control operators due to "other traffic"and that the altitude was deemed safe.
Liow issued an impassioned plea for the MH17 disaster site in Ukraine to be protected from tampering, saying evidence was being compromised in what it called a "betrayal of the lives that were lost."