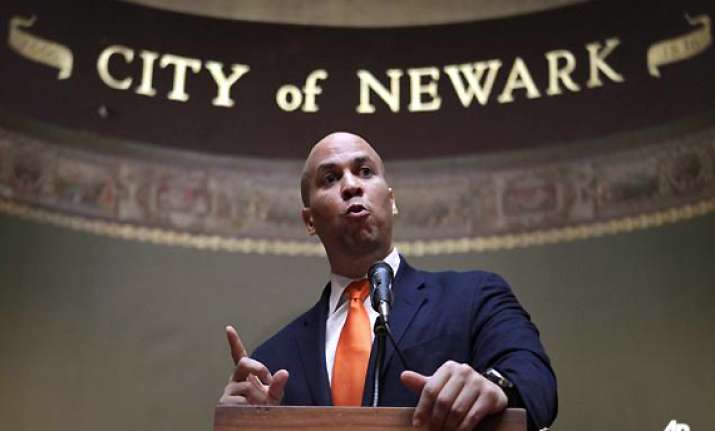 New Jersey, Apr 13:
The high-profile mayor of New Jersey's largest city said on Friday he feared for his life as he helped rescue a neighbour from a fire before fire-fighters had arrived.
Newark Mayor Cory Booker, speaking on CBS This Morning, described how he returned home on Thursday night and saw his neighbour's home engulfed in flames. A woman was screaming that her daughter was still inside.
The mayor's security detail tried to drag him away, but Mr. Booker told them that the woman was going to die, Detective Alex Rodriguez told CBS. "Without thinking twice, he ran into the flames and rescued this young lady," Mr. Rodriguez said.
Mr. Booker said he feared for his life as the kitchen erupted in the flames and he couldn't find the woman. The woman called out, he said, and Mr. Booker grabbed her from a bed and threw her over his shoulder.
"I punched through the kitchen and the flames and that's when I saw Detective Rodriguez. He grabbed her as well and we got her down the stairs and we both just collapsed outside," Mr. Booker said.
The mayor described it as a "come to Jesus moment."
Mr. Booker said he couldn't breathe after he got outside. He was treated and released from a hospital after suffering from smoke inhalation and second-degree burns.
Mr. Booker's thumb and first finger of his right hand were bandaged.
The woman Mr. Booker helped save is in stable condition with second-degree burns to her back and neck.
"Honestly it was terrifying and to look back and see nothing but flames and to look in front of you and see nothing but blackness," Mr. Booker said. The mayor said he now has an even more profound respect for fire-fighters.
Mr. Booker is known for helping constituents, even shovelling snow during a blizzard that snarled his city and the Northeast in 2010.
Mr. Booker, a prolific social media user, tweeted late Thursday that he was fine and thanked his followers for their well-wishes.
"Thanks 2 all who are concerned. Just suffering smoke inhalation," Booker tweeted. "We got the woman out of the house. We are both off to hospital. I will b ok."
The cause of the fire is not yet known.