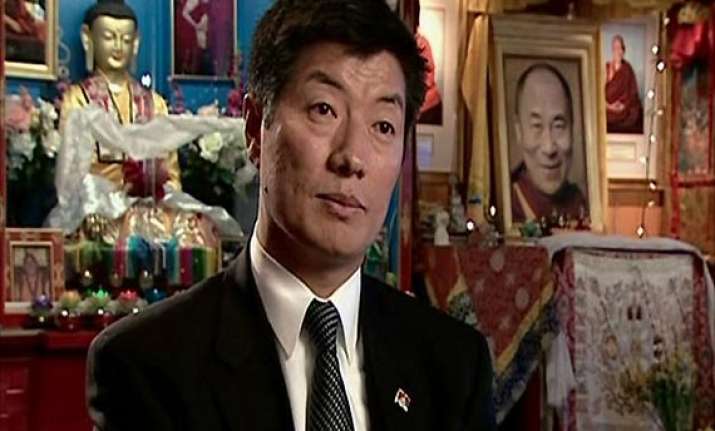 Dharamsala, HP: Lauding Indian democracy, Tibetan Prime Minister-in-exile, Lobsang Sangay expressed his government's gratitude to India for sheltering Tibetan exiles for several years ever since they were forced to leave their homeland.
On India's 67th Independence Day celebrations at Dharamsala, the seat of Tibetan government-in-exile,  Sangay said his government and all Tibetans are grateful to India for respecting the Tibetan spiritual leader, Dalai Lama.  
"Our heartfelt gratitude to the government of India, the great nation of India and people of India for hosting Tibetans and our spiritual and most revered leader, His Holiness the Dalai Lama for all the kindness extended to Tibetan people," said Sangay. 
Beijing that has ruled Tibet since 1950 considers the Nobel Peace Laureate, the Dalai Lama, who fled from China in 1959 after an abortive uprising against Chinese rule, as a violent separatist. 
The Dalai Lama says he is merely seeking greater autonomy for Tibet.  
Sangay said that India is a shining example for the rest of the world  for communal amity. 
"India is not only the largest democracy but also representative of unity-in-diversity in true sense of the word which Tibetans emulate and take it as a very good role model," added Sangay. 
On 8 August 2011, Lobsang Sangay took  charge of Sikyong (Tibetan political leader) to fill a vacuum created by the Dalai Lama's move to relinquish political power after more than five decades as head of the Tibetan government-in-exile. 
A Fulbright scholar with a doctorate in law from Harvard, in 2007 he was selected as one of 24 Young Leaders of Asia by the Asia Society, even though he has little government experience.