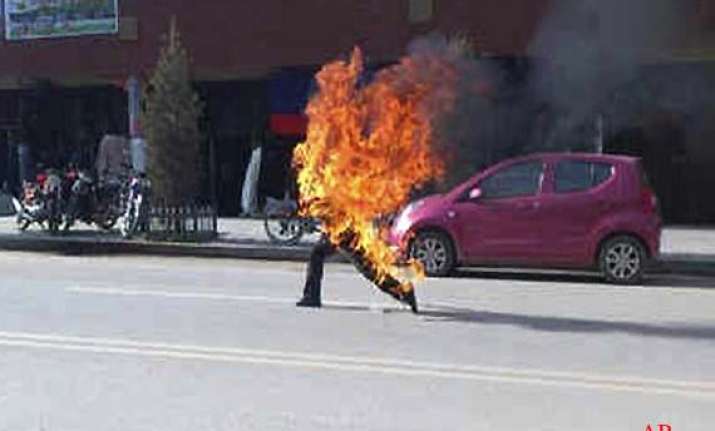 Beijing, Nov 26: Three Tibetans on Monday set themselves on fire in the provinces of Sichuan, Gansu and Qinghai to protest Chinese policies, overseas groups said, even as several hundred Tibetan students were reported to have carried out a protest in a medical college in north-western China in a reflection of continuing unrest in many Tibetan areas.
With Monday's protests, more than 80 Tibetans have carried out self-immolation protests, bringing fresh security restrictions across many Tibetan areas in the Tibet Autonomous Region (TAR) and provinces of Sichuan, Qinghai and Gansu.  
In November alone, more than 20 self-immolations have been reported, mainly in Qinghai and Sichuan, The Hindu reported.
The exiled Tibetan administration in Dharamsala said a man in his twenties called Wangyal, who was a former monk, set himself on fire in Serthar, in Sichuan.  
This followed reports that a Tibetan nun had set herself on fire in Malho, in northwestern Qinghai, a province where several immolations were reported this past month in the monastery town of Rebkong, or Tongren in Chinese.
An 18-year-old named Kunchok Tsering was reported to have died on Monday in Amchok, close to the famous Labrang monastery in Gansu province, sources in Dharamsala said citing their contacts in the region.
On Saturday, a top Communist Party of China (CPC) official in Sichuan, where many protests have been reported in the predominantly Tibetan county of Aba, called for strengthening supervision of monasteries and "fighting separatism".  
The Chinese government has accused exiled Tibetan spiritual leader the Dalai Lama and exiled groups in Dharamsala of encouraging the protests and of plotting to split Tibet. Officials in Beijing have also questioned how Dharamsala has been able to access videos and photographs of the self-immolations, often within hours of the events, alleging a conspiracy.
The Dalai Lama has strongly denied the Chinese accusations, and has said that the widespread unrest in many Tibetan areas was because of restrictive Chinese policies.  
The Tibetan spiritual leader has also called for an international fact-finding mission to establish the root of the problems.  
Chinese officials at the recently concluded CPC National Congress ruled out allowing any foreign observers into Tibetan areas, blaming separatists for the unrest.
Wang Dongming, the CPC Party Chief in Sichuan, in a speech in Aba on Saturday stressed that the government would not tolerate instability.  
"Our struggle with the Dalai [Lama] splittist clique is long-term, arduous and complicated. In fighting separatism and upholding stability we can never relax our work in the slightest," he was quoted as saying.
"We must strengthen and be innovative in accordance with law in our management of the monasteries," he added, "and unite the people in the common task to fight separatism and maintain stability."
In recent months, the self-immolations have spread beyond monastery walls, with many ordinary Tibetans, from students in Gansu to farmers in Qinghai, also setting themselves on fire to protest policies.  
Many of the incidents have been difficult to independently verify, with authorities barring journalists from travelling into many Tibetan areas and also warning of strict punishments for Tibetans who convey any information regarding protests.
On Monday, several hundred Tibetan students were reported to have carried out a protest in Qinghai, according to the exiled administration in Dharamsala, which said, citing photographs, that many students at the Sorig Lobling Medical School had been "seriously wounded" by security forces following the protest.