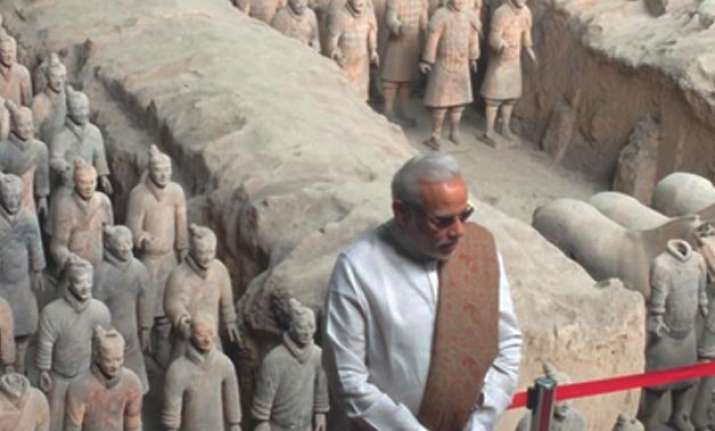 While the Prime Minister Narendra Modi is on a maiden visit to the neighboring country China, he will be visiting several renowned destinations of the sovereign state.
Apart from the grave discussion on the contentious border issue between the two countries, the PM has a long itinerary to pay homage to.
Out of many given below, here are interesting facts about two locations he will be visiting tomorrow.
First and foremost, at around 10:30 AM, he will be visiting Terracota warriors in Xi'an, Shaanxi province along with the Chinese delegates and later in the day he will go to Giant Wild Goose Pagoda or Big Wild Goose Pagoda again in the same province.
So, let's get to know these places one by one –
Terracota Warriors
The Terracota Warriors also known as 'Terracota Army' is a collection of terracotta (a type of ceramic) sculptures. They depict the armies of the first emperor of China – Qin Shi Huang. It is believed that the army comprising of warriors, chariots, horses and cavalry horses will protect the emperor after his death and thus they were buried along with the emperor in 210-209 BC.
For centuries, the largest pottery figurine group of the country remained unknown to its people till it was once discovered by a farmer in 1974.
The ceramic troupe comprises of 8000 soldiers, 520 horses and 130 chariots buried in different pits.
Giant Wild Goose Pagoda
The Big Wild Goose Pagoda (Dayan Pagoda) is a well-preserved ancient building and a sacred place for Buddhists situated in the southern suburb of Xian City.
Earlier known as the Pagoda of the Ci'en Temple or the Non-Leak Temple, it was built in 652 during the Tyang dynasty and originally had five stories.
One of the pagoda's many functions was to hold sutras and figurines of the Buddha that were brought to China from India by the Buddhist translator and traveller Xuanzang.
Owing to its eminence in Buddhist religion and attractive style of construction, the pagoda attracts a high number of visitors every year. It is rated as a National Key Cultural Relic Preserve as well as an AAAA Tourist Attraction. In 2014, Big Wild Goose Pagoda made it to the World Heritage List, adding much to the glory.
Both Terracota Warriors and Giant Wild Goose Pagoda will receive immense media attention when PM Narendra Modi would pay a visit there. Noticeably, Prime Minister left the country midnight for the three nation tour.