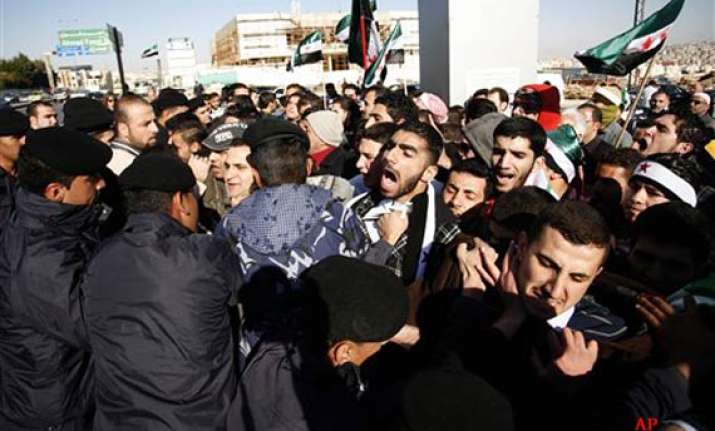 Damascus, Dec 12 : A general strike was being observed today in several regions of Syria to step up the pressure on the regime, activists said, as fears grew of an "invasion" of the besieged protest hub of Homs.

In the latest bloodshed, 10 civilians were killed across Syria today, including two children in the city of Homs, the Syrian Observatory for Human Rights reported.

Four people, two of them children, were killed by heavy machinegun fire in Homs, the group said, adding that 16 were also wounded in the separate Homs neighbourhood of Deir Baalbeh when security forces opened fire from heavy machineguns during raids, said the Observatory.

Two civilians were also killed by heavy machinegun fire in Kfar Takharim, in Idlib province bordering Turkey, where deserters and troops fought heavy clashes, the group said, adding that two troop transports were set ablaze.

Elsewhere, a 16-year-old boy was killed as security forces opened fire in Tafas, in Daraa province of southern Syria, where three armoured cars were set ablaze and several people were wounded in a similar confrontation.

A man who was abducted by regime forces earlier today was later found dead in the Daraa town of Jassem, the Observatory said, while a man and a woman were killed by sniper fire in Douma, near Damascus.

The casualties raised to more than 60 the number of people reported killed since Friday.The general strike was being "very widely observed" in Daraa province, cradle of the revolt against President Bashar al-Assad that broke out in mid-March.

The Observatory said shops also kept their shutters down in most parts of Jabel al-Zawiya, another town in Idlib, today, the start of the working week.

In towns near the capital, security forces tried to open shops by force and carried out arrests, said the rights watchdog and other activists. But "90 per cent" of businesses in Douma, in the Damascus area, were closed.

The Observatory said schoolchildren and civil servants stayed at home, although life carried on as normal in central districts of Damascus. "The strike was observed 100 per cent" in several districts of Homs.

In the wake of the general strike, activists are planning a campaign of civil disobedience to shut down universities, public transport, the civil service and major highways.

The opposition Syrian National Council and activists, meanwhile, have warned of a looming bloody final assault on Homs.

Witnesses in Homs, besieged by government troops, have reported a buildup of troops and pro-regime "shabiha" militiamen in armoured vehicles who have set up more than 60 checkpoints, the SNC said.

The Britain-based Observatory also warned that residents fear "a large invasion of the city."

"The arrival of hundreds of armoured vehicles to the city of Homs during the last two weeks estimated, according to witnesses," to number more than 200, the watchdog said in the English-language statement.
The United States, France and Britain have all warned Damascus against any bloody assault on Homs.