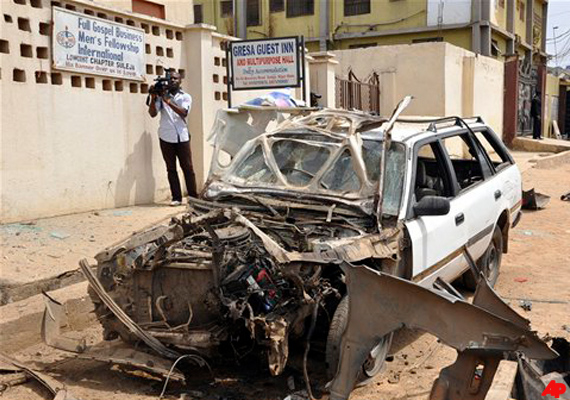 Lagos, Feb 26: A suicide car bomber detonated his explosives on Sunday morning outside of the major church in the heart of a restive central Nigerian city that has seen hundreds die in religious and ethnic violence, an official said, killing three people and injuring others.

The explosion struck the main headquarters of the Church of Christ in Nigeria during its early morning service, Plateau state spokesman Pam Ayuba said.

The blast killed the bomber and a father and child near the explosion, while wounding others, Ayuba said.

Police officials in the city could not be immediately reached for comment. A military spokesman for the area also did not answer calls for comment.

No group immediately claimed responsibility for the attack, though a radical Islamist sect known as Boko Haram has launched increasingly bloody attacks across Nigeria, including attacks on churches.

A Christmas Day bombing of a Catholic church claimed by the sect in Madalla, a town just outside the country's capital Abuja, killed at least 44 people.

The group also claimed responsibility for bomb attacks on Christmas Eve that struck Jos, killing as many as 80 people.

Jos and surrounding Plateau state has found itself torn apart in recent years by violence pitting its different ethnic groups and major religions _ Christinity and Islam _ against each other.

Human Rights Watch says at least 1,000 people were killed in communal clashes around Jos in 2010.

The violence, though fractured across religious lines, often has more to do with local politics, economics and rights to grazing lands.

The government of Plateau state is controlled by Christian politicians who have blocked Muslims from being legally recognized as citizens.

That has locked many out of prized government jobs in a region where the tourism industry and tin mining have collapsed in the last decades.