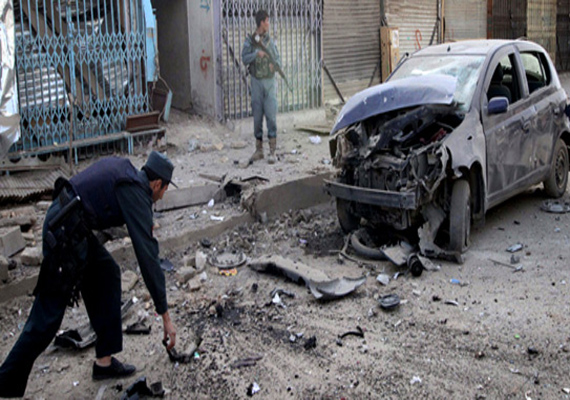 Kabul, Feb 27 : At least six people were killed and seven wounded today in a suicide car bomb attack at Jalalabad airport in eastern Afghanistan where NATO forces have a base, police said.
"Six people are dead," Nangarhar provincial police spokesman Hazrat Mohammad told AFP. 

NATO troops sealed off the area, Nangarhar provincial spokesman Ahmad Zia Abdul Zai told AFP.  There were no reports of NATO casualties in the attack, a spokesman for the International Security Assistance Force said.

"According to initial information the ISAF installation was not reached by the explosion," he said.  The Taliban, who are waging a 10-year insurgency against the Western-backed government of President Hamid Karzai, claimed responsibility for the blast.
The attack comes after at least 30 people were killed in six days of violent anti-USdemonstrations across the country in protest over the burning of Qurans at a US military airbase.
Yesterday, seven US soldiers were wounded in a grenade attack on their base in northern Kunduz province, police said.  President Hamid Karzai went on television yesterday to appeal for calm.

Karzai "condemned with the strongest words" the treatment of Islam's holy book and said the perpetrators should be punished, but told his countrymen: "Now that we have shown our feelings it is time to be calm and peaceful."

He said he respected the emotions of Afghans upset by the Quran burning in an incinerator pit at Bagram base north of Kabul, but urged them not to let "the enemies of Afghanistan misuse their feelings".