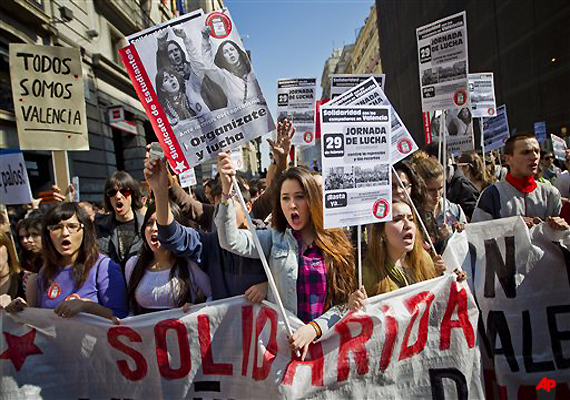 Spain, Feb 29: Spanish students in Barcelona clashed Wednesday with police and set fire to garbage containers during nationwide protests against education spending cuts.

Police said officers in riot gear charged a crowd outside the stock market in Spain's second largest city after protesters who had broken away from a peaceful rally of thousands threw rocks and other objects. Authorities made an unspecified number of arrests.

The fire in the containers spread to a car and protesters smashed a bank window.

Some students later made their way toward the University of Barcelona and took refuge in a plaza inside the campus.

Student Pau Bronsoms, 22, said police used truncheons to hit protesters and fired rubber bullets.

"We did not expect this degree of repression," he said. "Nobody broke anything until they charged."

An official with the regional police would not give details of what methods they used against demonstrators.

Students later headed down an avenue toward the Mobile World Congress, the huge cell phone trade show being held this week in Barcelona, but a line of police kept them away from the convention center hosting the event.

Students also marched in Madrid and Valencia, but no violence was reported there. The country is enduring steep austerity cuts and the prospect of recession as the government tries to stem an unemployment rate of almost 23 percent. Among those under age 25 it approaches a staggering 50 percent.