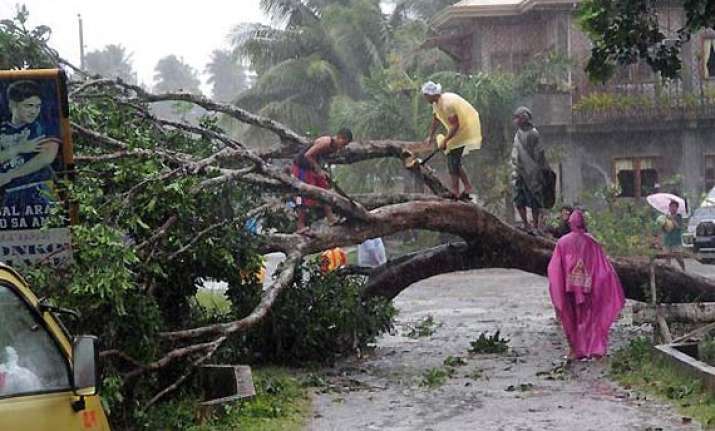 Manila, Dec 4: A powerful typhoon pounded the southern Philippines on Tuesday, cutting power, suspending travel and flooding areas already vulnerable to landslides.
More than 41,000 residents have moved out of their homes in high-risk coastal villages and along rivers, including in southern provinces that were devastated by a deadly storm a year ago.
Power has been cut off in at least eight municipalities in southern Surigao del Sur and Davao Oriental while parts of Agusan del Sur province are flooded, Civil Defense chief Benito Ramos said.
On Monday, President Benigno Aquino III made a national TV appeal for people in Typhoon Bopha's path to move to safety and take storm warnings seriously.
"This typhoon is not a joke," Aquino said after meeting top officials in charge of disaster-response.
"It could be the strongest to hit the country this year," he said. "But we can minimize the damage and loss of lives if we help each other."
The storm slammed into southern Davao Oriental province early Tuesday but did not immediately weaken. Government forecasters said it maintains winds of 175 km and gusts of up to 210 kph (130 mph).
Its eye, which is moving west at 26 kph (16 mph) , was last tracked at 80 km southeast of Bukidnon province's Malaybalay city.
Bopha, which has a 600—km-wide rain band, was expected to barrel across southern and central provinces before blowing out into the South China Sea on Thursday, forecasters said.
"We have zero casualties so far," Ramos said.
At least 80 domestic flights have been cancelled.
Aquino said army troops deployed search and rescue boats in advance and villagers were pre—emptively evacuated.
Authorities ordered small boats and ferries not to venture out along the country's eastern seaboard, warning of rough seas and torrential rain and wind that could whip up four-meter waves.
In the mountainous Compostela Valley, authorities halted mining operations and ordered villagers to evacuate to prevent a repeat of deadly losses from landslides and the collapse of mine tunnels seen in recent storms.
Residents in a riverside village that was wiped out by the storm last December in southern Cagayan de Oro city moved to a government hall, carrying TV sets, bundles of clothes and a pig.
Nearly 8,000 villagers were moved to four government shelters in Hinatuan, the coastal town that was directly in Bopha's path until the typhoon began to veer slightly, officials said.
Bopha, a Cambodian word for flower or a girl, is the 16th weather disturbance to hit the Philippines this year, less than the 20 typhoons and storms that normally lash the archipelago annually. Forecasters say at least one more storm may hit the country before Christmas.