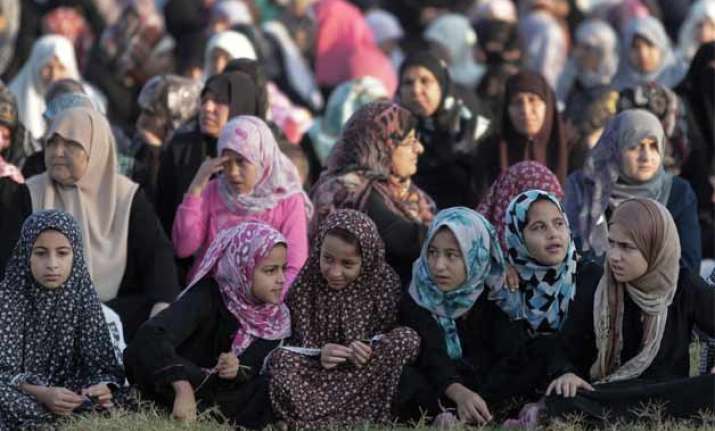 New Delhi:  Sexual violence is being committed strategically, in a widespread and systematic manner, and with a high-degree of sophistication by most parties to the conflict in Syria and Iraq, the Special Representative of the United Nations Secretary-General on Sexual Violence in Conflict, Zainab Bangura, said as she briefed journalists on her "scoping mission" to the region in April.
"Women and girls are at risk and under assault at every point of their lives," Ms. Bangura declared, emphasizing that the threat of brutality followed them "every step of the way...in the midst of active conflict, in areas under control of armed actors, at check-points and border crossings, and in detention facilities."
Ms. Bangura's trip lasted from 16 to 29 April and took her to Syria and Iraq, as well as to neighbouring countries of Turkey, Lebanon and Jordan, where she met directly with women who escaped the Islamic State of Iraq and the Levant (ISIL) captivity and survived sexual violence.
She pointed to instances of forced, temporary and early marriage and described how such practices were encouraged for fighters as part of Jihad and used as a "protection" mechanism for families with no other means of providing for or ensuring safety of young girls. She also noted the sale of women for sex.
"Girls are literally being stripped naked and examined in slave bazaars," she said, describing how they were "categorized and shipped naked off to Dohuk or Mosul or other locations to be distributed among ISIL leadership and fighters."
She listed examples of the horrors suffered by women, including one who had been temporarily married over 20 times, after each occasion forced to undergo surgery to repair her virginity.
"ISIL have institutionalized sexual violence and the brutalization of women as a central aspect of their ideology and operations, using it as a tactic of terrorism to advance their key strategic objectives," she said, going on to describe how women were promised to fighters and how ISIL raised funds through trafficking, prostitution and ransoms.
Sexual violence was used to displace populations, to punish, humiliate and demoralize dissenters, to extract information for intelligence purposes and to dismantle social, familial and community structures in order to construct a new "Caliphate."
The Special Representative said she had requested that the Security Council integrate protection and empowerment of women into its counter-terrorism response and she stated concerns about children born of rape, as they were unable to be registered. That risked creating "a generation of stateless children" who could provide fertile ground for future extremism.
The UN representatives report corroborates stories from the ground. In the fourth issue of the Islamic State's English language digital magazine called "Dabiq" the group justifies its kidnapping of women as sex slaves, citing Islamic theology that is widely rejected by the Muslim world as a perversion of the teachings of Islam.
The article titled "Revival Of Slavery Before The Hour" is reproduced in full below: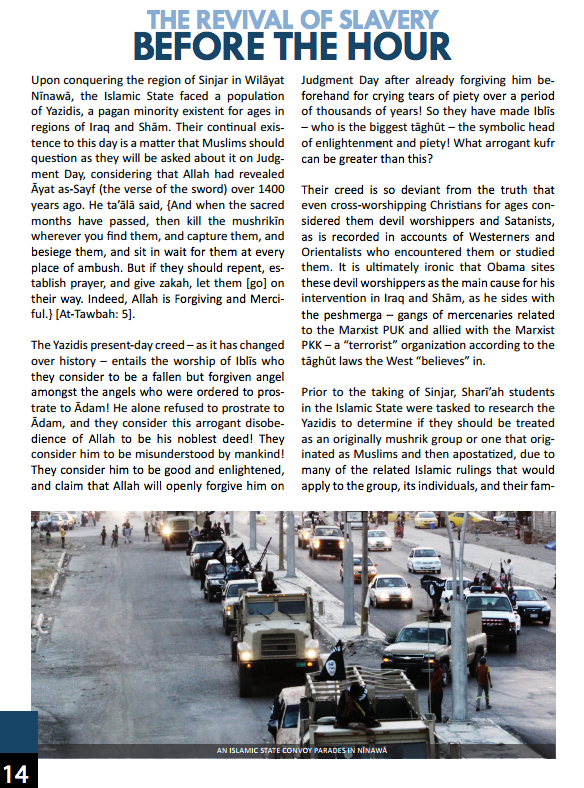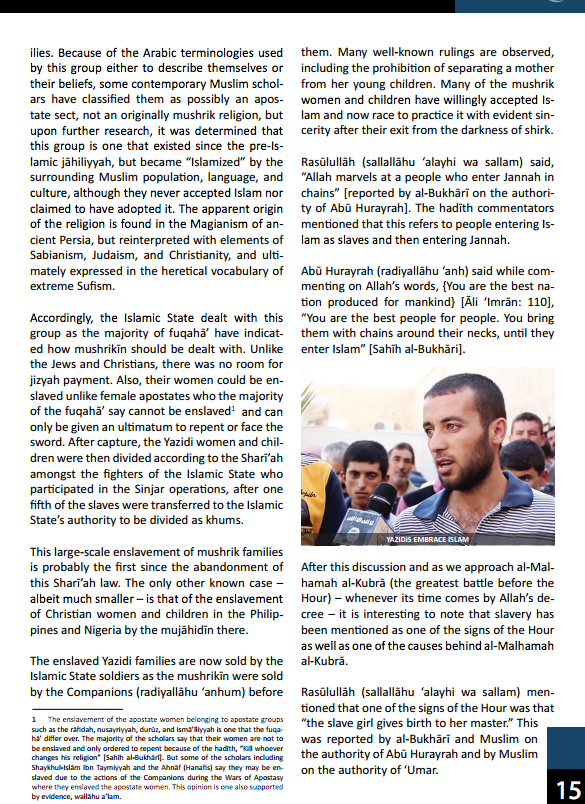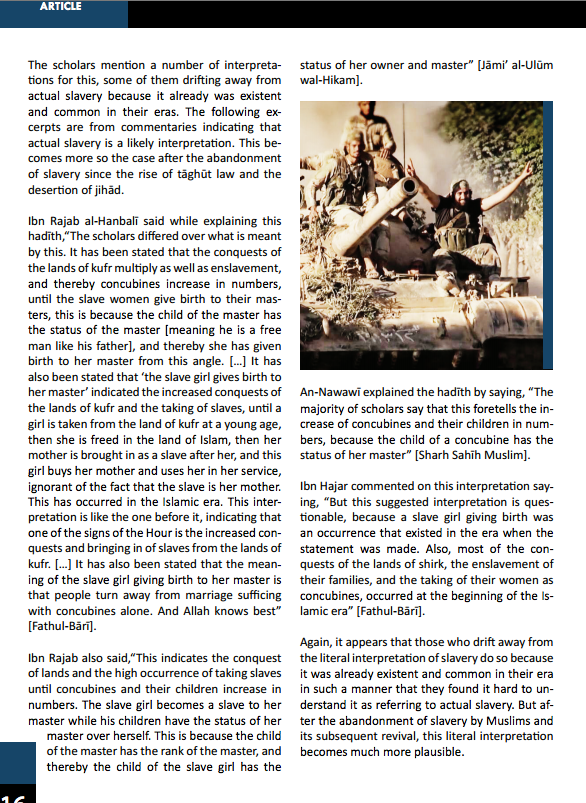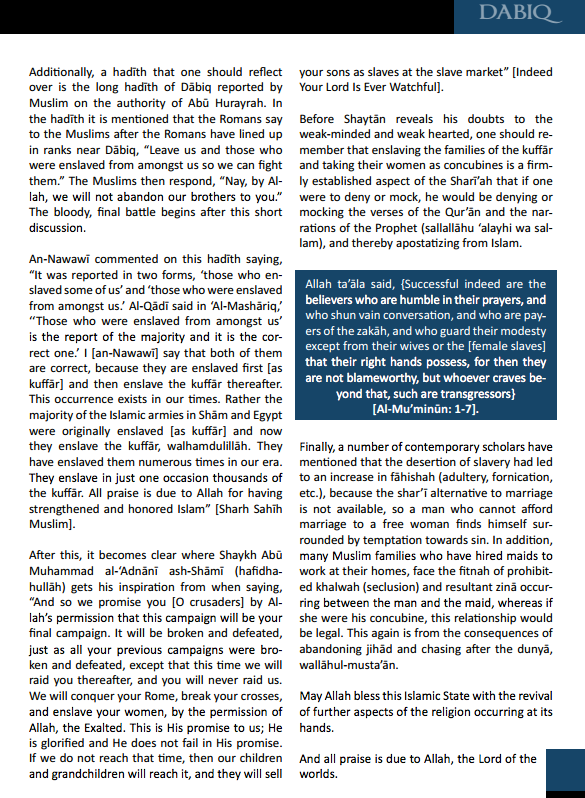 More recently, the Islamic State seems to have released a pamphlet that contains within it guidelines on how to capture and treat female slaves. The pamphlet is presented in a "Question and Answer" format. It first appeared on Twitter where it was circulated by pro-Islamic State accounts.
Although the pamphlet cannot be independently verified, it seems to have been published by the group's in-house publishing arm, the "Research and Fatwa Department".
This pamphlet was published in Arabic, and has been translated by the Washington-based Middle East Media Research Institute. The translation is reproduced below:
"Question 1: What is al-sabi?
"Al-Sabi is a woman from among ahl al-harb [the people of war] who has been captured by Muslims.
"Question 2: What makes al-sabi permissible?
"What makes al-sabi permissible [i.e., what makes it permissible to take such a woman captive] is [her] unbelief. Unbelieving [women] who were captured and brought into the abode of Islam are permissible to us, after the imam distributes them [among us]."
"Question 3: Can all unbelieving women be taken captive?
"There is no dispute among the scholars that it is permissible to capture unbelieving women [who are characterized by] original unbelief [kufr asli], such as the kitabiyat [women from among the People of the Book, i.e. Jews and Christians] and polytheists. However, [the scholars] are disputed over [the issue of] capturing apostate women. The consensus leans towards forbidding it, though some people of knowledge think it permissible. We [ISIS] lean towards accepting the consensus..."
"Question 4: Is it permissible to have intercourse with a female captive?
"It is permissible to have sexual intercourse with the female captive. Allah the almighty said: '[Successful are the believers] who guard their chastity, except from their wives or (the captives and slaves) that their right hands possess, for then they are free from blame [Koran 23:5-6]'..."
"Question 5: Is it permissible to have intercourse with a female captive immediately after taking possession [of her]?
"If she is a virgin, he [her master] can have intercourse with her immediately after taking possession of her. However, is she isn't, her uterus must be purified [first]..."