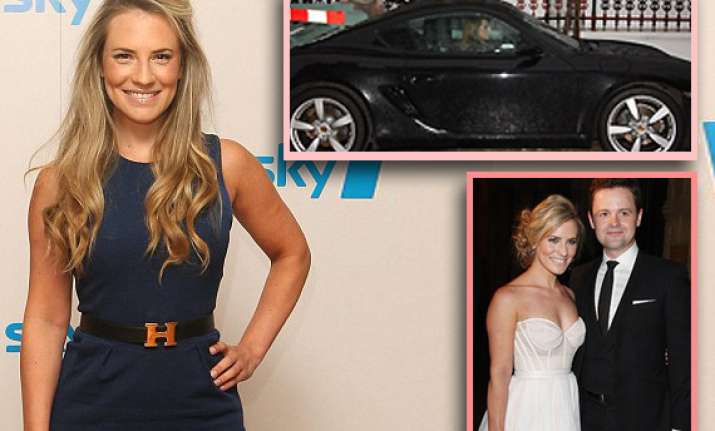 London, Aug 25: TV presenter Georgie Thompson has been arrested for allegedly driving under the influence.

The Sky Sports host, 33, was pulled over by police in Chelsea, West London, on Sunday afternoon.

Thompson, ex-girlfriend of Declan Donnelly, was stopped in her black Porsche and was found to be over the legal drink drive limit.

The blonde is due to appear in court next month charged with drink driving.

A friend told The Sun: 'Georgie is utterly devastated as you can imagine.

'She'd been at a friend's house for lunch and had had a few drinks early on.

'Georgie stopped drinking after a while and when it was time to go home she figured she would be OK. She was not staggering around drunk or anything.'

Thompson's agent James Williamson said: 'We can confirm she was pulled over for being over the limit at the weekend.'

Thompson's arrest comes four months after she split from Donnelly after two years of dating.

She said in June: 'It's been painful. At the moment, the party line is that we're really good friends and really support each other.

'But it's been tough, it's really tough. It's a really hard thing to live out a painful break-up when you're in the public eye. It hurts but we have to be grown-up.'

And Thompson said she would never say a bad word against Donnelly, even though she told friends the split came like a 'bolt out of the blue'.

She said: 'We're in the public eye and have a responsibility to be fair post-anything that may have happened.'

Meanwhile, her ex-boyfriend Donnelly is currently in mourning after the death of his father Alphonsus from cancer.