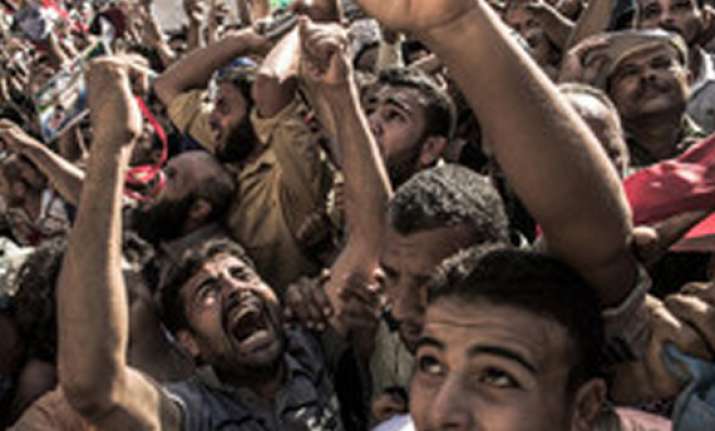 Cairo, Jun 25: While Egyptians of most creeds rejoiced over the results of the historic presidential election, there was shock and despair in a corner of Cairo's Tora prison where the Mubarak brothers are lodged.
The imprisoned sons of ousted president Hosni Mubarak—Gamal and Alaa—who would have desperately hoped for an Ahmed Shafiq victory, were a shattered duo.  
"Gamal and Alaa reacted with shock and tears at Sunday's announcement that the Muslim Brotherhood's Mohamed Mursi was Egypt's new president," security sources were quoted as saying by the state news agency MENA. 
Muhammed Mursi of Muslim Brotherhood was declared the winner of Egypt's first free and fair elections yesterday, assuming the office Hosni Mubarak occupied for over 30 years.  
The Muslim Brotherhood was at the receiving end of much of Mubarak's crackdown on political dissent for 30 years.  Ironically, Mursi himself spent time in prison under the Mubarak rule. 
Shafiq, on the other hand, was Mubarak's last prime minister and would have been much more sympathetic to the down in the dumps Mubarak family. 
The two, who enjoyed significant powers during their father's rule, are in Tora Prison awaiting trial for alleged corruption. 
They have been charged for accumulating billions in illicit profits by violating capital market laws and unlawfully taking a majority stake in Al-Watany Bank through investment and private equity funds they controlled.  
Mubarak, who was jailed for his role in the killing of protesters during the 2011 uprising that toppled him, was recently transferred from Tora Prison Hospital to Maadi Hospital after the 84-year-old's health deteriorated.