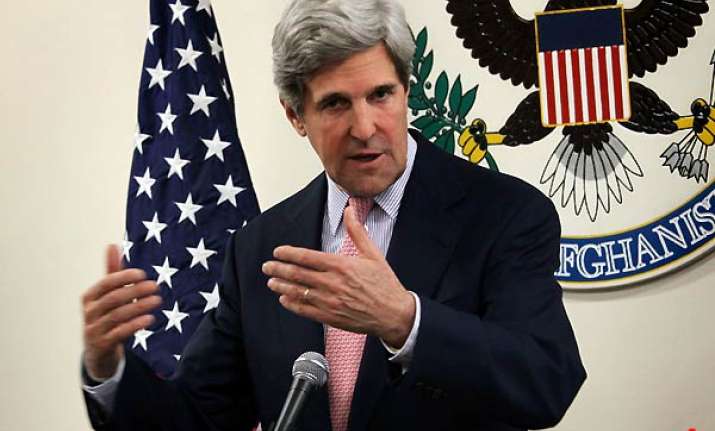 Islamabad, May 15 : US Senator John Kerry held talks today with Pakistani army chief Gen Ashfaq Parvez Kayani as part of efforts to ease tensions between the two countries in the wake of the unilateral military raid to kill Osama bin Laden.
Kerry, the chairman of the Senate Foreign Relations Committee, is also expected to press Pakistan's leadership to demonstrate their commitment to the campaign against Al Qaida and the Taliban.
Shortly after he flew into Islamabad from Afghanistan today, Kerry met Kayani at the army's General Headquarters in Rawalpindi.
They discussed "matters of mutual interest with special reference to post-Abbottabad incident", said a statement issued by the Pakistani military.
In a separate development, US Secretary of State, Hillary Clinton telephoned President Asif Ali Zardari and discussed the situation in the aftermath of the military operation that killed bin Laden in the garrison city of Abbottabad on May 2.
The two leaders "agreed to resolve issues amicably and move forward", said a statement from the presidency.
Zardari apprised Clinton of "concerns expressed by Pakistan's parliament over the US operation".
Kerry is the first senior American official to visit Pakistan since the Al Qaida leader was killed.
He will also meet Pakistan's political leadership, officials said.
Pakistan has condemned the US raid against bin Laden as a violation of its sovereignty and warned that it will retaliate with "full force" against any similar operation.
The attack sparked widespread anger in Pakistan and a special in-camera parliamentary session on Friday too condemned the US raid.
Referring to bin Laden's presence in a compound, a short distance from an elite military facility, CIA chief Leon Panetta has said that Pakistani authorities were either complicit or incompetent.
Kerry arrived in Islamabad after a two-day visit to Afghanistan.
The US media has reported that Kerry is carrying a list of actions that Pakistan can take to ease tensions.
A senior American official was quoted as saying that the US would try to use the threat of Congressional cuts to annual aid to Pakistan as leverage. PTI