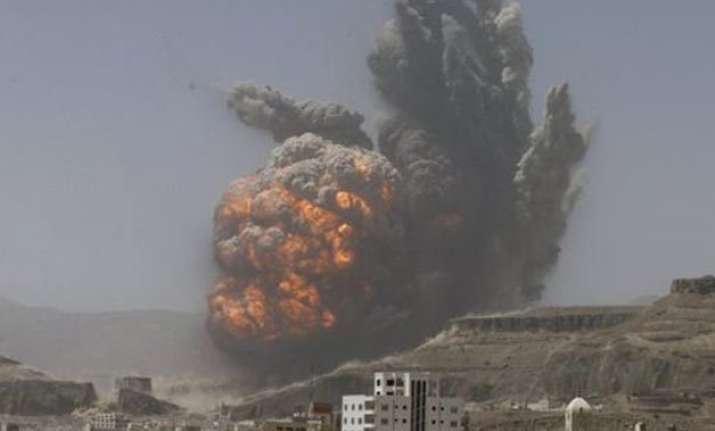 Sanaa: Saudi-led airstrikes struck a headquarters for police commandos in Yemen's capital today, killing at least 45 people gathered there to prepare to fight against forces loyal to the country's exiled president, Shiite rebels said.
Hundreds had been gathered at the site, close to Sanaa's presidential palace, to receive weapons while others loitered in the grass and under trees before the strike, three men there told The Associated Press.
There also were militiamen there from the ranks of the Shiite rebels, known as Houthis, many of them wearing traditional Yemeni clothes, they said.
The bombs and missiles demolished at least three buildings in the complex, damaged armored vehicles and set weapons depots ablaze, many having explosions for at least an hour afterward.
The Houthi-controlled Health Ministry said in a statement that the strikes killed at least 45 members of the security forces and wounded at least 286.
The main Houthi satellite news channel gave a similar death toll, saying it was expected to rise.
The three men, along with security officials describing the attack, spoke on condition of anonymity because they were not authorized to speak to journalists.
Witnesses said jets also bombed a naval base in the western Hodeida province controlled by the Houthis. Saudi and allied jets also bombed the northern Houthi strongholds of Saada and Hajjah, witnesses said.
The attacks are part a military campaign launched March 26 to try and restore internationally recognized President Abed Rabbo Mansour Hadi, now living in exile in neighboring Saudi Arabia. The strikes target the Houthis and their allies, which include forces loyal to ousted President Ali Abdullah.
In a new report today, World Health Organization chief Margaret Chan said that Yemen's conflict has killed up to 2,000 people and wounded 8,000, including hundreds of women and children. She did not specify how many of the dead were civilian.
Recent UN estimates have said that at least 1,037 civilians, including 130 women and 234 children, have been killed in the fighting.
Chan also said that the killings sometimes included whole families, giving the example of a 65-year-old woman named Fathiya who lost 13 members of her family in an attack that left her the only guardian of three surviving grandchildren.
The war, as well as a Saudi-led air and sea blockade of the country, also have caused widespread shortages of fuel, water, food and medical supplies. Earlier this week, the international humanitarian group Oxfam warned that some 16 million people in Yemen don't have access to clean water. Half a million people have been displaced across the country.