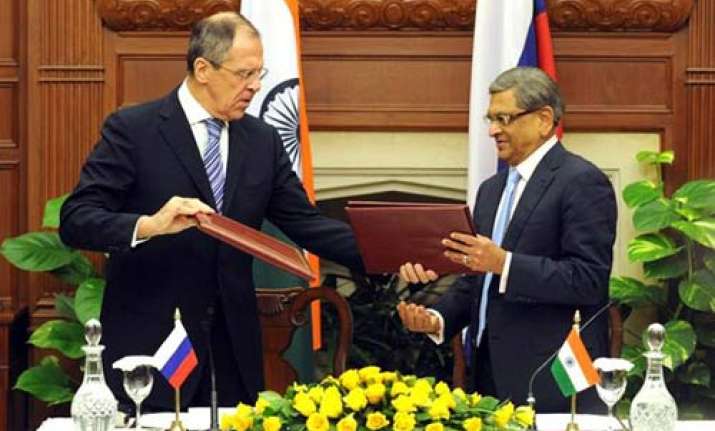 New Delhi, Nov 30:  Russia said Monday it hoped to sign a slew of agreements with India, including military and trade deals, during a trip next month by Russian President Dmitry Medvedev to New Delhi.
Russian Foreign Minister Sergei Lavrov flew to the Indian capital to prepare the ground for Medvedev's December 21-22 summit with Indian Prime Minister Manmohan Singh.
"Our discussions concentrated on the visit of the Russian president and our intention is to sign many documents on trade, economy, outer space and military issues," he said after talks with his Indian counterpart S.M. Krishna.
Lavrov's announcement came a month after India said it had agreed to buy up to 300 Fifth Generation Fighter Jets (FGFA) from Russia that it will help jointly develop and manufacture.
Experts say each 30-ton FGFA is worth up to 100 million dollars. AFP
Russian experts have said the country's troubled defence industry would receive a major boost with the FGFA deal with India.
Lavrov did not give details of the other agreements slated for December.
Indian foreign minister Krishna said the two countries "were on the same page."
"Our relations with Russia are a key foreign policy priority for us and has remained in focus in the past weeks," he said, adding defence cooperation between the two strategic partners would continue.
The draft agreement for the FGFA project is likely to be signed during Medvedev's trip in December, military experts say.
India and Russia in September signed a separate pact to develop multi-role transport aircraft in a project worth 645 million dollars.
Moscow is New Delhi's largest military supplier but recent frictions over cost escalations and delays in the delivery of a refurbished Russian aircraft carrier have strained cosy bilateral ties.
India is also in the process of acquiring 270 Russian Sukhoi jets worth 12 billion dollars and is poised to hand out a contract for 126 fighter planes as part of a separate 12-billion dollar deal for which six global aeronautical giants are in the race.
Copyright © 2010 AFP. All rights reserved.