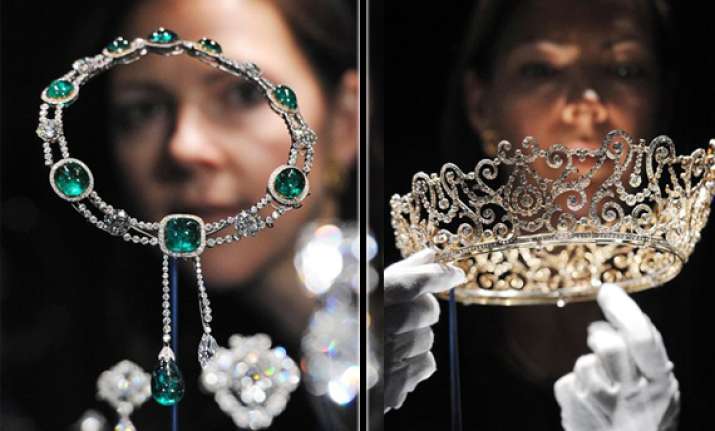 London, Jun 29:
An exhibition of royal jewels was unveiled on Friday at Buckingham Palace in London to mark Queen Elizabeth ll's Diamond Jubilee.
Some 10-thousand diamonds set in works owned by six monarchs over three centuries are on show.
Among the priceless exhibits are several pieces from the Royal Collection on display for the first time.
They include the Delhi Durbar Tiara, loaned to the Duchess of Cornwall in 2005 and Queen Victoria's Fringe Brooch, worn by the Queen at a State Banquet for the President of Turkey in 2001.
Among the highlights included are some of the Queen's personal jewels that were either inherited or given to her during her reign; one of the most widely recognised of which is the Diamond Diadem featured on British and Commonwealth stamps and coinage.
Caroline de Guitaut, the exhibition curator, said on Thursday that the Diamond Diadem is significant due to the fact that so many people recognise it.
"It appears on portraits of her Majesty the Queen on our postage stamps here in the United Kingdom but it's also very familiar because her Majesty the Queen wears it on the way to the Palace of Westminster for the state opening of Parliament every year since the first state opening of her reign in 1952," she added.
One of the highlights of the display is the miniature crown, catalogued as 'small diamond crown'.
It was worn by Queen Victoria for her official Diamond Jubilee portrait in 1897 and incorporating 1,187 diamonds.
The showcase also features seven of the nine principal stones cut from the Cullinan Diamond, at 3,106 carats as an uncut stone, the largest diamond ever found.