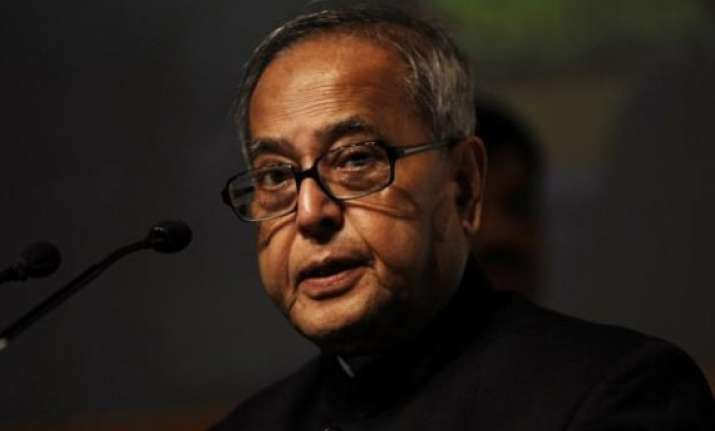 Oslo: With an aim of giving a boost to India's relations with Scandinavian countries, President Pranab Mukherjee arrived here today on the first leg of his two-nation visit to Norway and Finland during which a number of agreements on trade, education and earth sciences will be signed.
Mukherjee, the first Indian Head of State to visit Norway, was received at the airport by the Norwegian officials.
Mukherjee will begin his official engagements in Norway from tomorrow when he will be received by King Harald V on whose invitation the President has come here.
Earlier, he was a given a ceremonial send off at Rashtrapati Bhavan in New Delhi by Vice-President Hamid Ansari, Minister of Human Resource Development Smriti Irani, Lt Governor of Delhi Najeeb Jung and three service Chiefs.  During the visit, the President will have meetings and interactions with King Harald, Queen Sonja, Prince Haakon and Crown Princess Mette-Marit.
The President, who is accompanied by Union Minister of State for Heavy Industries and Public Enterprises Pon Radhakrishnan and a high-level delegation consisting of Members of Parliament, educationists and businessmen will also have meetings with Prime Minister Erna Solberg and the President of the Storting (Parliament), Olemic Thommessen.  
India is looking at investments and expertise of the Scandinavian country, which shared cordial relations with India and supported its case for waiver in Nuclear Suppliers' Group and observer in Arctic Circle, in the high end technology in fisheries, ports construction and infrastructure.
Norway, which is not a European Union member, runs a USD 850 million Pension fund of which only USD four billion are being invested in India, says Secretary (West) Navtej Sarna.  But there is a commitment to raise it to 20 billion to 40 billion dollars, "and we want to see how we can push that further and with which sectors we can do that," he said.  
The Norwegian Pension fund, earlier knows as 'Oil fund', is a result of large state revenues from the petroleum activities which resulted in substantial financial assets.  Started in 1990 to underpin long-term considerations in the phasing in of petroleum revenues into the Norwegian economy, it helps in long-term, sound management of the Fund and also helps to ensure that both present and future generations can benefit from Norway's petroleum wealth.  
As Norway is the world's third largest exporters of hydrocarbons in the world and have huge reserves of oil and gas, the President, before his departure, had a meeting with businessmen and industrialists to understand how India could be benefited from the Scandinavian nation.