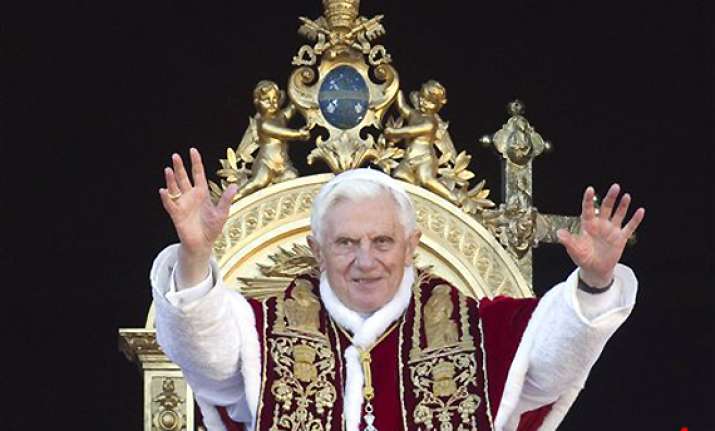 Vatican City, Dec 25: Pope Benedict XVI called for an end to the bloodshed in Syria and the resumption of Israeli-Palestinian peace talks in his Christmas message today, an appeal for peace that was challenged by deadly attacks on Nigerian churches.

Benedict delivered his "Urbi et Orbi" speech (Latin for "to the city and to the world") from the central loggia of St Peter's Basilica overlooking a sun-drenched piazza below, before thousands of jubilant tourists and pilgrims, and hundreds of colourful Swiss Guards and Italian military bands.

The 84-year-old pope, fresh off a late-night Christmas Eve Mass, said he prayed that the birth of Jesus, which Christmas celebrates, would send a message to all who need to be saved from hardships.

He cited refugees from the Horn of Africa and flood victims in Thailand, among others, and called for greater political dialogue in Myanmar, and stability in Iraq, Afghanistan and Africa's Great Lakes region. He said he prayed that God would help the Israelis and the Palestinians resume talks.

"May he bring an end to the violence in Syria, where so much blood has already been shed," he said. The pope didn't mention the deadly blasts on churches in Nigeria, but the Vatican issued a statement denouncing the attacks as a sign of "cruelty and absurd, blind hatred" that shows no respect for human life.

Earlier today, an explosion ripped through a Catholic church during Christmas Mass near Nigeria's capital of Abuja, and an emergency worker reported that 25 people were killed. A second explosion struck near a church in Nigeria's restive central city of Jos, while two other explosions hit the northeast state of Yobe.

There was no immediately claim of responsibility for either explosion, but Nigeria has suffered a wave of sectarian attacks blamed on the radical Muslim sect Boko Haram.

Vatican spokesman Rev Federico Lombardi said the Catholic church was praying for all Nigerians confronting "this terrorist violence in these days that should be filled with peace and joy."

The Vatican press office noted that Benedict's speech was prepared well in advance of the attacks.

After his speech, Benedict delivered Christmas greetings in 65 different languages, from Mongolian to Maori, Aramaic to Albanian, Tamil to Thai.

He finished the list with Guarani and Latin, as the bells tolled from St Peter's enormous bell towers.