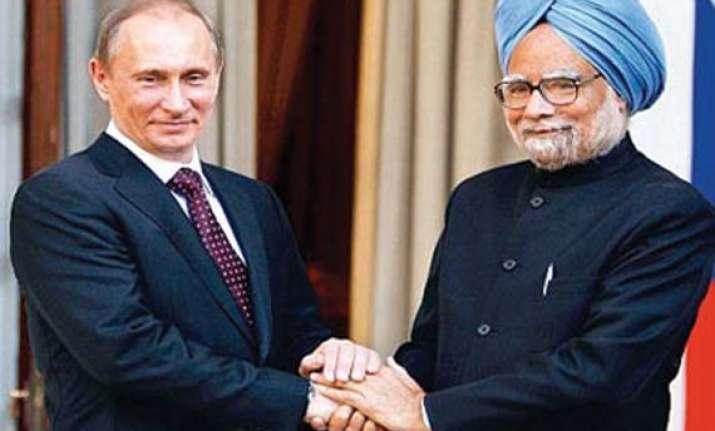 New Delhi, Dec 24 :  Russian President Vladimir Putin and Prime Minister Manmohan Singh Monday began their bilateral summit meeting here Monday with discussions expected to focus on economic ties, energy and multi-billion dollar defence deals.
The meeting is being held at 7, Race Course Road, the official residence of the prime minister. The venue was shifted from Hyderabad House in the wake of large-scale violent protests that took place at the India Gate area Sunday.
Ahead of the meeting, Syed Akbaruddin, spokesperson of the ministry of external affairs tweeted that eight agreements are to be inked. Putin arrived early Monday for a day-long visit.
The negotiations will focus on the construction of the Kudankulam nuclear power plant (KNPP), India's participation in Russia's Sakhalin-I project, oil and gas projects in far-east Russia, as well as the production of an export variant of Russian plane-maker Sukhoi's T-50 stealth fighter, which India plans to begin from 2020, RIA Novosti said.
"Russia considers India as one of the most deserving and strongest candidate for the permanent member of the expanded UN Security Council and supports its decision to become a full member of the Shanghai Cooperation Organization (SCO)," Yury Ushakov, Putin's foreign policy aide, said, according to RIA Novosti.
Russia and India celebrate the 65th anniversary of the establishment of diplomatic relations this year. Russia-India trade is expected to reach a record high of $10 billion by the end of the year.
"The negotiations will contribute to the broadening, deepening and improvement of cooperation. A number of agreements will be reached," Ushakov said, adding "I'd rather not anticipate the events, but you will see the results of the negotiations".
Putin is also to meet President Pranab Mukherjee as well as Congress chairperson Sonia Gandhi and Leader of Opposition in the Lok Sabha Sushma Swaraj.
Defence deals worth $7 billion are expected to be inked. The highlight will be a contract, worth around $4 billion, to buy additional Sukhoi 30 MKI fighters equipped with the Brahmos cruise missiles, an Indo-Russian joint venture.
India has already signed a pact for delivery of 80 Mi-17 V5 helicopters, of which 42 have already been inducted since February this year.
Russia accounts for over 60 percent of India's military hardware. On the trade front, the two sides are expected to reiterate the target for scaling up bilateral trade to $20 billion.