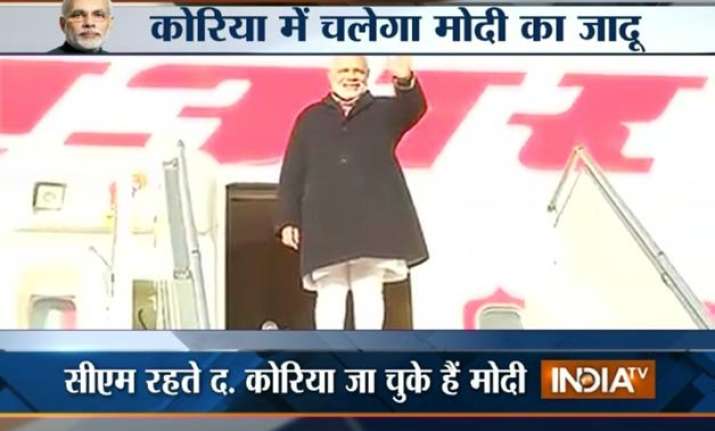 Seoul: Prime Minister Narendra Modi arrived here today on the last leg of his three-nation visit during which he will hold talks with the South Korean leadership aiming to give a fillip to economic and trade cooperation.
A slew of agreements are expected to be signed during the visit including one on Double Taxation Avoidance Convention, cooperation in shipping and logistics, audiovisual co-production, transport, highways and electric power development in new energy industries.
PM Modi South Korea visit day one LIVE coverage
Here is PM Modi's day 1 schedule (IST):
After arriving in capital Seoul, PM Modi will first pay his respects to martyrs at national cemetery.
Modi will meet Indian Diaspora at 10:20 am at Kyung Hee University.
The Prime Minister will receive formal welcome at 11:00 am at the Grand Garden of Seoul.
Modi will meet South Korean President Park Geun-hye at 11:45 am.
Both countries will have delegation level talk at 12:10 pm.
Agreements will be signed at 1:00 pm and a press release will be issued subsequently.
PM Modi will meet United Nationas Secretary Ban Ki Moon at 2:30 pm.
South Korean President Park Geun-hye will host a dinner in honour of PM Modi at 3:00 pm.