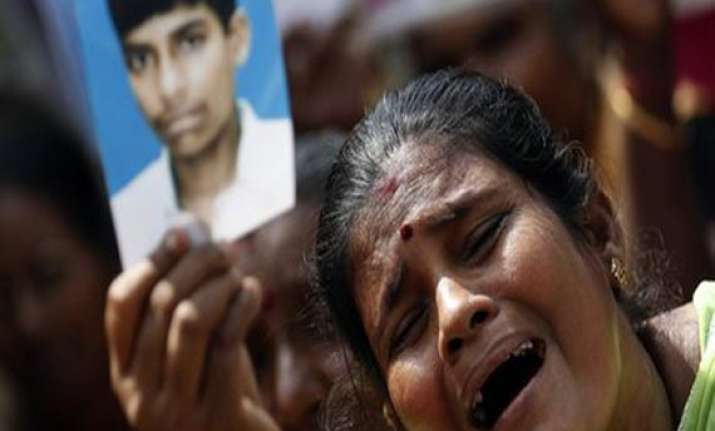 Colombo:  UN Human Rights Commissioner Navi Pillay has assured the relatives of Tamil people who disappeared during Sri Lanka's war with the LTTE that their grievances would be taken up with President Mahinda Rajapaksa. 
Pillay, the most senior UN official to visit the north since Secretary General Ban Ki-moon in 2009, yesterday toured the site of the final battle between the Lankan troops and Tamil Tigers at Nanthikandal which resulted in LTTE's defeat.  She met with Tamil families who
complained to her about missing relatives, military land grabs and life without basic facilities.
Pillay assured them that issues such as land, livelihoods and the disappearances would be discussed with President Rajapaksa during her meeting with him later this week.  The UN official, who also visited the former LTTE nerve centre of Mullaithivu, told the people that no quick solutions could be expected.
Pillay is in Lanka on a week long assessment visit ahead of the UN Human Rights Council's next session in September.  Sri Lankan military defeated the LTTE in May 2009, putting an end to their three-decade long bid to create a separate state for Tamils.
According to human rights groups, over 500 people had disappeared from Jaffna during the military's onslaught against the LTTE.
According to a UN report, Sri Lankan army might have killed 40,000 Tamil civilians in the final phase of the war.  Sri Lanka has come under intense international pressure to probe disappearances and rights abuses allegedly happened during the final military campaign.
The UN Human Rights Council headed by Pillay has adopted two resolutions binding Sri Lanka to show progress on rights accountability.
Pillay's visit comes as Canada has called for a boycott of a Commonwealth summit scheduled to take place in Colombo in November.