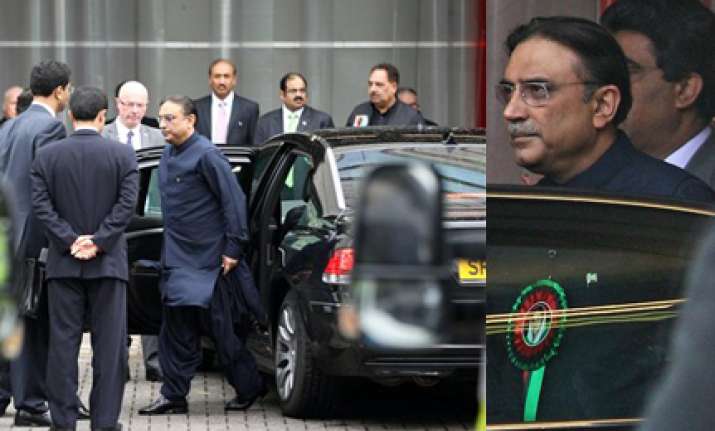 BIRMINGHAM: President Asif Ali Zardari's grand finale to his UK visit was marred on Saturday by two shoes thrown at him by a 60-year-old man during his speech, in the inglorious tradition set by former US President George Bush in Baghdad, reports The News, Islamabad.
The British security took away the old man who also shouted slogans  'Zardari is a thief'. Presidential Spokesman Farhatullah Babar however  denied the entire incident and Information Minister Qamar Zaman Kaira, indirectly confirming it, said it should not have been highlighted.
Kaira told newsmen outside the hall that the investigation would be carried out to determine how and why the old man was invited to the gathering for which special invitation cards had been selectively issued by the Pakistan High Commission.
According to AFP, the police said one man was escorted from the hall after a shoe was thrown at Zardari, while adding it did not land close to him. It has not yet been decided whether to press charges, a spokeswoman for the local force said.
Geo TV and Jang correspondent, who was in the front row, saw the old man throw both his shoes at Mr Zardari, within seconds as security officials immediately escorted him out of the meeting.
A few minutes after the incident, the old man was released by the authorities, Pakistani TV channels reported shortly after the incident.
The incident inside the hall coincided with a big protest outside the venue where hundreds of flag-waving protestors carried banners and raised slogans against the Zardari visit.
London's Sunday Telegraph immediately reported the incident on its website under the headline "Pakistan's President Zardari is pelted with shoes at Birmingham rally" with a subtitle "Pakistan's president, Asif Ali Zardari, had shoes thrown at him today as he attended a political rally in Birmingham."
Rosa Silverman of the UK news agency, Press Association, reported that one man was escorted out of the venue by police after throwing his shoes at the president in a gesture of protest.
The speech was not covered by private TV channels and only the state-owned PTV cameras were allowed inside the hall. Even mobile telephones were also disallowed so it was not immediately possible to get the footage of the incident but PTV did not show any such incident or even a commotion when it telecast an edited version of the speech. The PTV feed speech was carried by all private channels.
A couple of websites, however, claimed that the video of the shoe incident would be on the Internet soon. The sites also claimed that video was being edited by the PTV so that it may not get viral.
AFP adds: As President Asif Ali Zardari was to attend a rally, protesters demonstrated against his presence in Britain during the flooding disaster back home.
Zardari was due to speak at a political event in Birmingham for Pakistan People's Party (PPP) members and leading figures in the Pakistani community in Britain.
Hundreds of demonstrators from various standpoints gathered outside the International Convention Centre venue in Britain's second city, chanting and waving placards.
With the flooding disaster affecting up to 15 million people in Pakistan, Zardari has come under fire from some quarters in Pakistan and Britain for continuing with his trip to Europe during the crisis.
Some demonstrators held up shoes to pictures of Zardari, while others held placards reading, "1000s dying, president is holidaying", "Thousands killed, millions homeless, what president is laughing for?" and "Are the Zardaris enjoying England while Pakistan drowns?"
Mohammed Khalil, a local official from the Tehreek-e-Insaf was among those protesting against Zardari. "His own people are dying for food, there's calamity there," he told AFP.
"He should be there organising for his own people. Instead he's here with so many people. The government is paying all the expense for that. That money should be spent on the people of Pakistan, not on himself."
Taji Mustafa, from the Hizb-ut-Tahrir organisation, said Pakistanis were outraged.
"There is no self-respecting leader in the world who in this time of dire national crisis, while people are drowning, he is drowning in enjoyment, he is drowning having lavish dinners in the company of his die-hard supporters," he said.
Wajid Ali Burkey, a PPP business forums coordinator in Britain, defended Zardari as he went into the event.
"In the last 70 years, we have not had such a disaster. But I don't think the president being there or not being there would have made any difference," he told AFP.
The demonstrators "have a right of opinion to believe he should not have come, but I personally believe it is very important."
A PPP spokesman had said Bilawal Bhutto Zardari would attend the Birmingham event and might speak at it but the 21-year-old on Saturday denied the rally was meant to launch his political career as he opened a donation point at the Pakistani High Commission in London. The Oxford University history graduate vehemently defended his father's visit to Europe.
"He's doing the best he can and what he thinks is best to help the people of Pakistan," he said.
"His personal presence in Pakistan would not be able to raise this much money," he said, adding that multi-million dollar donations had been made by France, Britain and Abu Dhabi on the way."If he thought he could be more useful in Pakistan, I'm sure he would be there."
He added: "The floodwaters have devastated the lives of a people who have already suffered the most at the hands of terrorists.
"This is not a time to play politics. We need to do whatever is necessary to help our brothers and sisters in Pakistan."