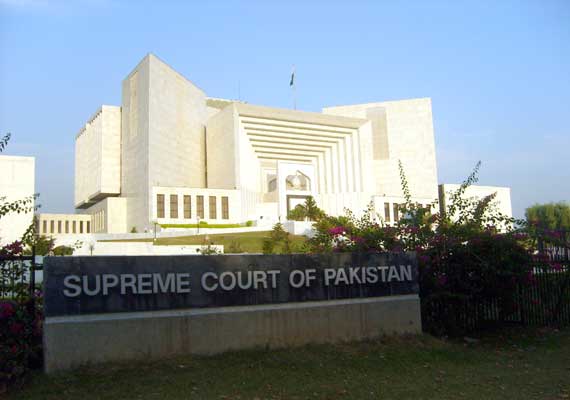 Islamabad: Pakistan Supreme Court today issued an order against any unconstitutional step to remove the civilian government as anti-Sharif protests threatened political instability and possible military intervention in the coup-prone country.
A larger bench of the Supreme Court led by Chief Justice of Pakistan Justice Nasir-ul-Mulk issued the order after hearing a petition against any possible "extra-constitutional steps".
In a short order, the apex court asked all state institutions and officials to refrain from taking any steps in violation of the Constitution.
The court said that any violation of orders would be treated as treason and punishable under Article 6 of the Constitution.
Treason in Pakistan is punishable with death or life term.
The plea was filed by Supreme Court Bar Association President Kamran Murtaza after reports that protests by cricketer-turned-politician Imran Khan and Canada-returned cleric Tahirul Qadri might lead to Army intervention.  Murtaza had requested the court to issue an order against any possible extra-constitutional steps that could be taken due to prevailing political situation.
During the hearing, Attorney General for Pakistan (AGP) Salman Aslam Butt also requested the bench to pass an order that no unconstitutional steps will be taken by any institution including the Army, The Express Tribune reported.  The Attorney General told the bench that he supported the stance of the petitioner as it relates to fundamental rights and political stability.
He also mentioned a ruling of the Supreme Court of India prohibiting a political rally against the government.  Determined to oust Pakistan Prime Minister Nawaz Sharif, tens of thousands of protesters are marching towards the capital.
Two opposition groups, led by Khan and Qadri, plan to converge on Islamabad to press Sharif to call an early election little over a year after his landslide victory in the polls.
The Army which has already been handed over the security of capital for three months, has a history of capturing power from democratically elected governments.  In its 67-year history, Pakistan has witnessed three coups, including one against Sharif in 1999 by the then army chief General Parvez Musharraf.