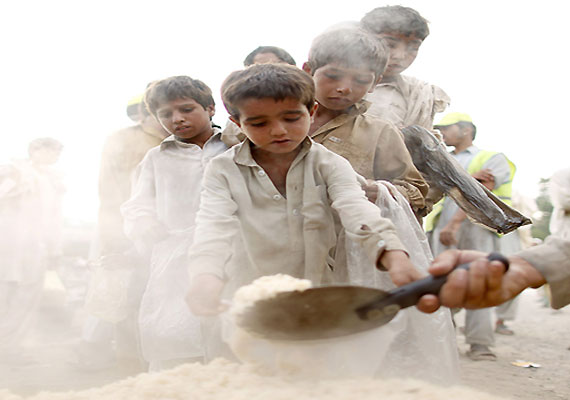 Islamabad, Oct 19: Pakistan has failed to come up with a concerted action plan to fight hunger due to which nearly a third of the people go to bed hungry, a leading daily said Friday.
An editorial in the Dawn said that there was a time when the general reality in Pakistan was that while people were poor, few went to bed hungry.
"With an economy based on agriculture, a sector that constituted the single greatest source of employment, most citizens had access to enough food, even though of the most basic variety. This is no longer the case," it said.
It added that Over the years, the number of citizens who do not have access to sufficient quantities of food has been steadily increasing, and caloric intake has been compromised in even middle-income households.
"The situation faced by the poor is extremely disturbing."
A survey undertaken earlier during the year showed that two-thirds of the population spends between 50 and 70 per cent of income on food alone.
The daily went on to say that despite these stark realities, "Pakistan has failed to come up with a concerted action plan to fight hunger and malnutrition".
"Committees have been formed, persons appointed and much paper has been moved around, but little difference can be seen on the ground," it said.
On Tuesday, Minister for National Food Security and Research Mir Israrullah Zehri said that according to the National Nutrition Survey 2011 around 58 percent of the population is food insecure, while nearly 30 per cent suffers hunger or severe hunger.
"Time is indefensibly being wasted; it seems that our decision-makers have no idea of what it means to not know where the next meal is coming from," it said.