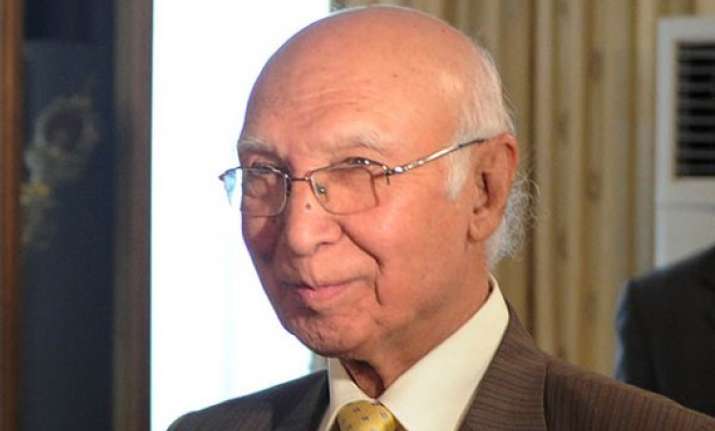 Islamabad: Pakistan today briefed the envoys of five permanent members of the UN Security Council about the tensions on the LoC and International Border with India.
In a statement, Pakistan Foreign Office said Adviser to the Prime Minister on National Security and Foreign Affairs Sartaj Aziz briefed the ambassadors of the US, the UK, France, Russia and China in Islamabad on the security situation.
"He expressed his concern that the ceasefire violations by India and the provocative statements by Indian leadership were not only a setback to peace efforts but also a distraction from Pakistan's counter-terrorism commitments in the ongoing Operation Zarb-e-Azb (operation in North Waziristan)," the statement said.
Aziz expressed disappointment that first the Foreign Secretary-level talks were cancelled, and then "India resorted to unprovoked firing and shelling on the LoC and the International Border resulting in many civilian casualties, injuries, and extensive damage to property".
He outlined the Prime Minister's vision of a peaceful South Asian region and his positive overtures to the Indian government since coming to power in May 2013, including reaching out to Prime Minister Narendra Modi.
Aziz also informed the P-5 Ambassadors about his letter to the UN Secretary-General in which he had called upon the world body to play its due role towards defusing the prevailing situation, and monitoring of the ceasefire violations by the UNMOGIP, which possessed both the mandate and the infrastructure to play its important role.
He also called upon the P-5 countries to urge India to respect the ceasefire agreement and engage in a meaningful and serious dialogue.
The Foreign Secretary also attended the briefing, which was conducted after the government decided last week to highlight the border tension with India at the international level.