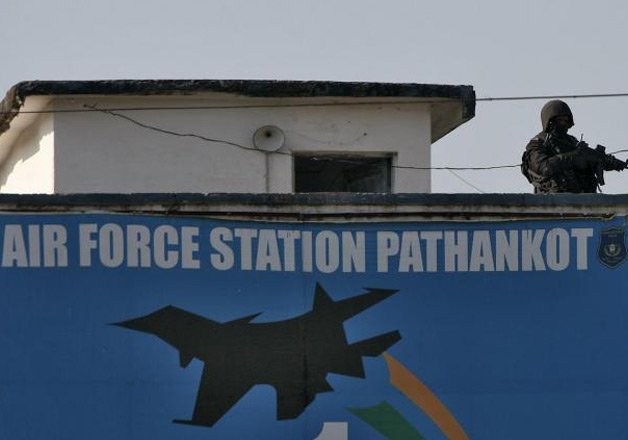 Lahore/New Delhi: Pakistani authorities have conducted raids in some cities of Punjab province and arrested several suspects in connection with Pathankot IAF base terror attack. According to media reports, all the arrested person have been shifted to an undisclosed location and further interrogation will be done to establish the possible links.
"The raids were conducted in Sialkot, Gujranwala, Jhelum and Dina cities in Punjab province during the last two days, and some suspects were arrested," an Interior Ministry official said.
The authorities are looking for those involved directly in the attacks or the facilitators of the attackers, reports said, adding that the special teams comprising police and other law-enforcers are conducting raids across the country, especially in central Punjab cities.
Pakistan has also started investigations regarding the telephone numbers provided by India and used in planning the attacks on the Pathankot airbase.
"It is suspected that the arrested people have been in contact with the alleged extremists in the near past. These people went underground when news stories were run by the media after the attacks," the official said.
The official said these suspects had stopped the use of their mobile numbers (SIMs) and because of this locating them had become very difficult. He, however, said those points are being searched for the suspects where they had last used the said mobile numbers.
Interior Minister Chaudhry Nisar Ali Khan said the mobile numbers provided by India in the Pathankot case were also included in the case registered by the Pakistani authorities.
He said during the investigation, several people have been detained for questioning. He, however, did not provide the details of those arrested.
Pakistani authorities had lodged an FIR in connection with the Pathankot attack on February 18. The FIR was filed against 'unknown persons' after weeks of probe into the terror assault that had led to the postponement of Foreign Secretarylevel talks.
Meanwhile, Defence Minister Manohar Parrikar has said that no one can enter the defence installations without the permission of the ministry, hinting who should have the final call about permitting the Pakistani SIT team.
"The incident has happened here and we will investigate what has happened here. What we are asking them (Pakistan) to investigate is the role of their people in their country," Parrikar said.
Parrikar's remark came in the wake of media reports suggesting that the Indian authorities have allowed the Pakistani SIT to visit the attack site in Pathankot.
Seven security personnel were killed when suspected terrorists of Pakistan-based Jaish-e-Mohammad (JeM) stormed the Pathankot airbase on January 2.
With Agency Inputs