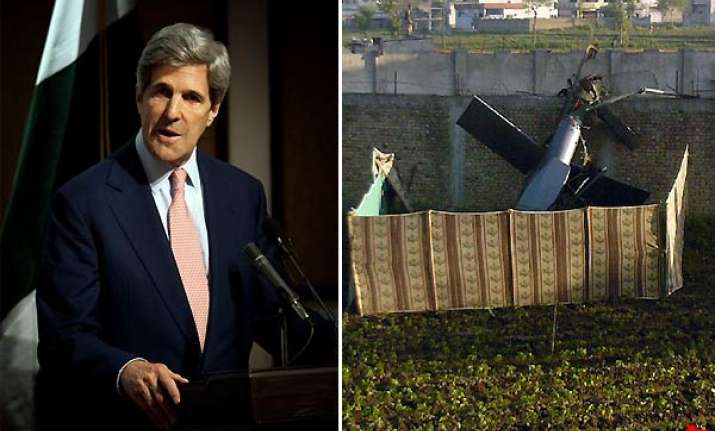 Islamabad, May 17: Pakistan will return the pieces of the secret U.S. helicopter that went down during the operation that killed Osama bin Laden early this month, Senator John Kerry told reporters on Monday.   
Kerry, chairman of the U.S. Senate Committee on Foreign Relations, said the chopper's wreckage -- which aviation experts said was the first public evidence of a secret U.S. stealth Blackhawk program -- would be handed over to American officials Tuesday. 
Democrat Senator Kerry  met with senior Pakistani civilian and military officials today in Islamabad in hopes of improving relations between the two countries following America's unilateral incursion into Pakistan to kill the al Qaeda leader on May 1. 
Following the operation, U.S. officials asked Pakistan for the wreckage back, but Pakistan had not publicly agreed until Kerry's visit. One Pakistani official told ABC News last week the Chinese were "very interested" in seeing the remains of the helicopter. Another Pakistani official said then that the Pakistan government "might let them [the Chinese] take a look." 
A U.S. official said at the time he did not know if the Pakistanis had offered a peek to the Chinese, but said he would be "shocked" if the Chinese hadn't already been given access to the damaged aircraft.