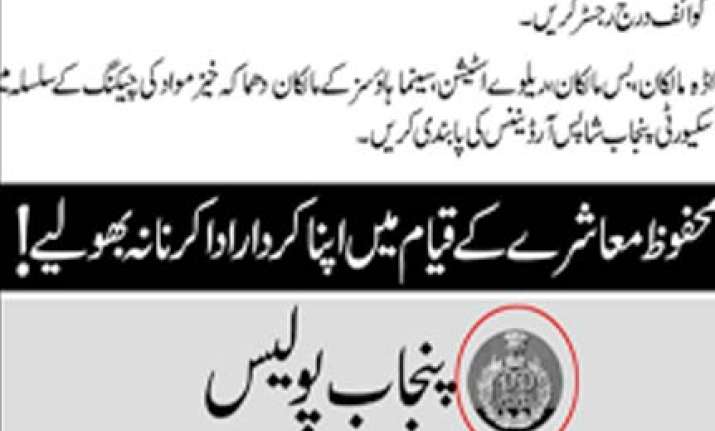 A Punjab Police advertisement carrying the  logo of Punjab Police of India has appeared in newspapers on Friday.
The advertisement has called upon the people to extend their cooperation with Punjab Police to counter terrorism.
At the bottom of the advertisement, Punjab Police of India logo has been placed in place of the logo of Punjab Police of Pakistan.
When contacted, Inspector General of Punjab Tariq Saleel Dogar put the blame on printing company, saying the department had sent an accurate advertisement with correct logo. However, he said an inquiry was being conducted into the error.
In an apparent attempt to downplay the gaffe, the IGP said that the logos of Punjab Police of Pakistan and India were historically identical, causing this mistake.
To a question, he said: "We have ideological difference with India, but it was done mistakenly."
It may be reminded that an Indian government advertisement carrying image of Pakistani ex-air force chief had appeared in Indian newspapers in January this year.
Former Air chief Tanvir Mahmood Ahmed was pictured with Indians such as Prime Minister Manmohan Singh and cricketer Kapil Dev in a campaign against female foeticide.
The full-page newspaper ad was produced by the women and child development ministry for National Girl Child Day. The government has ordered an inquiry into the error.
Former Air Chief Marshal Ahmed said the inclusion of his photograph in the advertisement was probably an "innocent mistake".